Ponovno okupljen 2009., ovaj kultni post-punk bend iz Blackpoola u novoj formaciji predvođenoj i dalje s karizmatičnim vokalistom i gitaristom
John Robbom
na svome povratničkom albumu, prvom nakon punih 26 godina ne ostavlja mnogo sjete ka retroaktivnim sferama.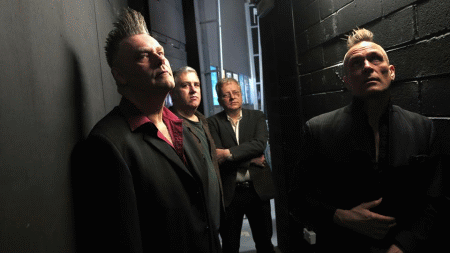 The Membranes 2016.
Mnogo toga su prošli tijekom 80-ih ostvarivši i nekoliko zapaženijih rezultata na listama najprodavanijih independent albuma i singlova redovito ostavljajući neurotičan i sirov dojam da se mnogo toga u zvuku moglo popraviti i popeglati, no Robbova striktna ideja d.i.y. punka jednostavno nije dozvoljavala neke posebne studijsko-produkcijske manevre. Robb je kao novinar, publicista i književnik također mnogo toga napravio za underground scenu Britanije objavivši 9 knjiga i pišući za mnoge ugledne glazbene magazine (Sounds, Melody Maker, The Sunday Times, The Observer, The Guardian, The Independent...), dobitnik je i prestižne nagrade za najboljeg britanskog independent glazbenog kritčara, a upravo u fazi stvaranja ovog povratničkog albuma umro mu je otac (pjesma "
In the graveyard
" upravo govori o tome), pa je tako mnogo atmosfere prevagnulo u mračniju stranu naginjujući ka neo-folk, gothic/dark i soundtrack shemama. Sve su se one vrlo dobro uklopile u glavnu tematiku albuma koja preispituje ogroman životni ciklus od rođenja do smrti često znanstveno-metafizički povezanog s velikim praskom, nastankom svemira, kaosom u njemu, nasiljem na Zemlji i ponovnog povratka u bezdan beskrajnosti u kome se pokušava dohvatiti ljepota pretvorbe energije u bestjelesnost.
Križajući mnoštvo stilizacija s neizostavnim post-punk referencama strugavih gitara i Robbovih naglašeno brundavih noise-rock basova, pjesme se kreću u raznolikim intenzitetima od uvodnih "
The universe explodes into a billion photons of pure white light
", "
Do the supernova
" i "
21st century man
", preko obrednog gothica "
Money is dust
", znanstvenog spoken-word komada "
The multiverse suite
", psihodeličnim neo-folkom obojenog "
Dark matter
", najžešćim i najneurotičnijim noise-rockom "
If you enter the arena, be prepared to deal with the lions
" na pragovima The Jesus Lizard sve do vrlo mističnih opservacija tri posljednje pjesme "
5776 (the breathing song)
", "
Dark energy
" i "
The hum of the universe
" u kojima se zalazi i u auto-tune vokaliziranja, psihodelične sofistikacije bluesa i drone obzore.
Kroz ovakav smisleni koncept uronjeno je mnoštvo različitih referenci koje ponekad vuku vodu na no-wave, ponekad na The Birthday Party i The Pop Group, koji put i na legendarna imena industrial/drone scene (Throbbing Gristle, Coil), no prepoznatljivi Robbov režavi i bijesni vokal, te neuračunjljivi gitarski ispadi s iskrzanim riffovima neprestano održavaju balans s koegzistentnim post-punk temeljcem od kojeg je nemoguće pobjeći. Ovakav povratak s ovakvim kreativnim vrlinama bez nekog evidentnijeg prekopavanja po prošlosti nije ostao neprimjećen odjeknuvši gotovo senzacionalistički među kritičarskom armadom koja je u mnoštvo napisa uvrstila "Dark Matter/ Dark Energy" među najbolja dugosvirajuća ostvarenja 2015.
Naslovi: 1.The universe explodes into a billion photons of pure white light, 2.Do the supernova, 3.21st century man, 4.Money is dust, 5.The multiverse suite, 6.Space junk, 7.Dark matter, 8.If you enter the arena, be prepared to deal with the lions, 9.In the graveyard, 10.Hail to the lovers, 11.Magic eye (to see the sky), 12.5776 (the breathing song), 13.Dark energy, 14.The hum of the universe
ocjena albuma [1-10]: 9

horvi // 06/09/2016