Drugi album nakon ponovnog reuniona i sjajnog "Dark Matter/ Dark Energy" (2015) koji je pokupio laskava priznanja za ostvarenje godine i remiksiranog "Inner Space, Outer Space" (2016) objavljenog netom uoči zagrebačkog koncerta 10.IX 2016. kad su u Tvornici bili predgrupom Gang Of Four, pristigao je taman u idealno vrijeme proljeća. Ne uzalud, već namjerno jer album je fokusiran upravo na prirodne procese, one samoobnovljive i periodične, ali i životne koji se teško mogu revalorizirati poput majčice prirode, odnosno, tematika fabulom filmskog scenarija neprestano varira između života i smrti metaforizirajući neskladan odnos čovjeka ka okolišu, te sukob i osvetu prirode prema civilizaciji.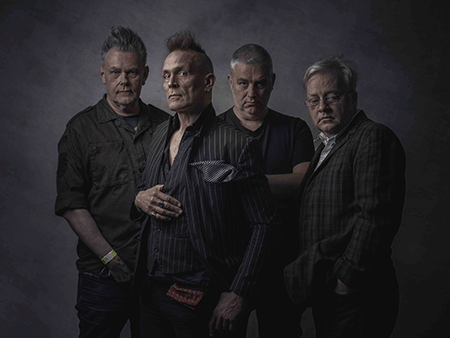 The Membranes 2019. © John Middleham
Vođa
John Robb
(vokal, bas) to je objasnio vrlo slikovito riječima: 'Zamislite krasotu i opasnost prirode, diverziju rada mrakova, onaj zvuk kojeg je u glavi imao Hieronymus Bosch kad je slikao čudesne prizore vrana, demonskog cvijeća, neobičnih pejzaža, ogromnih oceana, potraćenih godišnjih doba, pohotnih latica, osjetilo se tu i nepoznatih miomirisa…'. A dodajmo k tome, nakon izdavanja ovog albuma (7.VI 2019.), kozmetička firma Lush na tržište stavlja novi preparat nazvan "
A strange perfume
" (nepoznati parfem) baš po uvodnoj pjesmi ovog albuma.
Ta angažirana lirska sprega koja doduše i ne fluktira u nekoj osobitoj količini stihova (svega nekolicinu po pjesmi, a ponekad i samo stih-dva) očitava se u velikom glazbenom zahvatu s 20-to članim zborom
BIMM Choir
, gudačima i 4 gostujuća vokala -
Chris Packhamom
,
Kirk Brendonom
(Theatre Of Hate, Spear Of Destiny), staroj folk pjevačici
Shirley Collins
, a tu je i vjerojatno Robbov dobar prijatelj, proto-punker
Jordan
. Nekih značajnijih osvrta na samu zvučnu prošlost benda ovdje nema i dobro što je tako. Jer, dok mnogi stari punk i ini izvođači jedino imaju običaj održavati vlastitu slavu i stare šablone, The Membranes hrabro kroče u oplemenjivanje izraza ne libeći se niti eksperimenata koji im itekako osvježivaju stil neočekivanim križanjem žanrova od post-punka, gothica preko heavy/ noise zvuka, obilate psihodelije, pa čak i konotacija industriala i neo-classical fragmenata.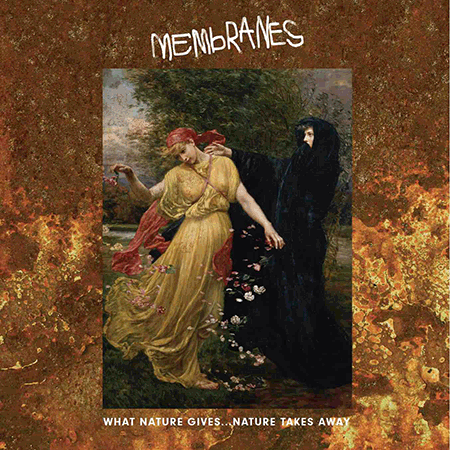 Taj uvodni otvarač "A strange perfume" sažima svu ljepotu, ali i sablasnost prirode uvodeći u konceptualni splet od 16 kompozicija koje se umnogome razlikuju jedna od druge istom onom mjerom kao što su nekoć Bauhaus očaravali nepredvidljivim inovacijama. Sad, kad se analizira ovakvo miš-maš serviranje u kome nakon brze i plesnije uglavnom dolazi sporija i tromija, svaka je opet specifična ponaosob jer se non-stop izmjenjuju ideje organizacije infrastrukture. Recimo, u nekom pjesmama Robb na basu svira riffove, a gitaristi
Peter Byrchmore
i
Nick Brown
igraju ambijentalne, ekspresivne, rastrgane, atmosferične uloge. U nekima ima prljavih riffova i struganja, u nekima su gudači na prvom mjestu i tako redom ne dajući puno prostora tradicionalnom formatu rocka i punka da iskoči u nedostatku adekvatnih ideja. A i Robbov vokal se neprestano valja u metamorfozama: negdje šapuće, negdje se pretvara u opakog Nick Cavea poput žestokog noise komada "
A murder of crows
", negdje vrišti, negdje je skroz mračno skuliran...
Pa tako od žešćih u prvi mah uskaču Joy Division-ska naslovna "
What nature gives… nature takes away
" s nijemim zborskim vokalima i gudačima, rasplesane "
Black is the colour
" i "
Mother Ocean/ Father Time
", garažno prljavo uštimane "
The magical and mystical properties of flowers
" i "
Snow monkey
", a od laganijih tu su psihodelične "
The city is an animal (nature is its slave)
" koja revitalizira Public Image Ltd. iz psycho faza na posve novoj razini i dimenziji, zatim monumentalne epske složenice "
The 21st century is killing me
" i "
Deep in the forest where the memories linger
" u kojoj značajan doprinos ima ženski zbor (ova potonja ima ugođaj Hookovog basa "Shadowplay"), šaputavi spoken-word Kirka Brendona u gudačkoj "
A murmuration of starlings on Blackpool Pier
", najdulja sablasna "
The ghosts of winter stalk this land
"...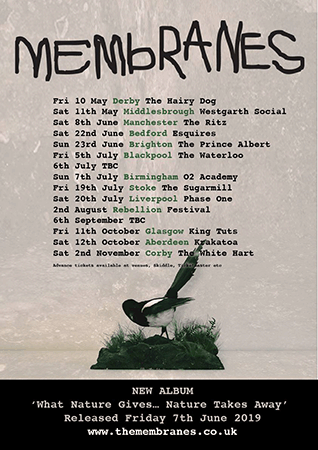 Jednostavno rečeno, ovih impozantno uređenih 70-tak minuta obara već na prvo slušanje svojom inovantnošću, progresijom i velikim sažimanjem vitalne karakteristike profinjenog umjetnika da neprestano istražuje nikad se ne zaustavljajući na istome mjestu. Ovi nekadašnji anarho-buntovnici su se pretvorili u angažirane humaniste kanalizirajući bijes u pozitivnom pravcu i to baš u pravom trenutku kada je svjest o očuvanju majke prirode i oca vremena ("Mother Ocean/ Father Time") najvažniji doprinos svakog pojedinca u disfunkcionalnom sistemu i društvu koje se latentno predstavlja osvještenim ekološkim faktorom za očuvanje vlastitog ognjišta. Zasigurno, ovo je najoriginalniji post-punk album u 21. stoljeću. Remek djelo žanra.
Naslovi: 1.A strange perfume, 2.What nature gives… nature takes away, 3.A murder of crows, 4.The city is an animal (nature is its slave), 5.The 21st century is killing me, 6.Deep in the forest where the memories linger, 7.Black is the colour, 8.A murmuration of starlings on Blackpool Pier, 9.Mother Ocean/ Father Time, 10.The magical and mystical properties of flowers, 11.Snow monkey, 12.Demon seed/ Demon flower, 13.The ghosts of winter stalk this land, 14.Winter (the beauty and violence of nature), 15.Nocturnal, 16.Pandora's box
ocjena albuma [1-10]: 10

horvi // 28/05/2019