Mada bi lijepo stajao nazivnik EP, ovo je prilično dugačak rad koji odgovara proporcijama standardnog albuma: ima čak 40 minuta sa samo 4 vrlo dugačke kompozicije u kojima ovaj slovenski bend šiba vrlo psihodeličan sludge-metal s vriskavo opakim vokalistom i kompleksnijim aranžmanima približavajući se prefixu progressive.
Krucijalno govoreći, ovakav šturi opis sludgea susrećemo manje-više kod svakog žanrovskog predstavnika, no ove Slovence karakterizira upravo psihodeličnost i sklonost ka eksperimentima kojima popunjavaju, odnosno razvlače kompozicije do poimanja post-metal formata s mnogo breakova i nezasitne želje ka monumentalnosti. Zvuk im je oštro prljav, mračan i rustikalno oblikovan s posezanjima i u black reference evidentno teživši stavu undergrounda, međutim kad tu i tamo ispliva poneka čista sekvenca oslobođena distorzije uronjena u lebdeća gitarska staccata, opet se stvara jedan sasvim drugačiji dojam. Ali kako god, kompleksni jesu i umiju baratati s nekim vitalnijim žanrovskim referencama osobito u dvije najdulje teme "Bounds tied tight" i "All of her, mine" što zajedno iznose više od 25 minuta.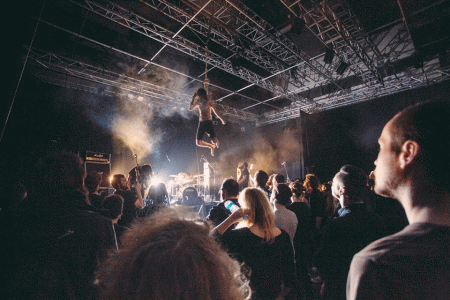 the canyon observer
Uz očekivanu tromiju tempiranost samih stilskih predispozicija, ne manjka im niti frenetičnijih, doduše povremenih bubnjarskih prebacivanja u veće brzine zadržavajući se u karakterističnom mračnom horizontu s obligacijama kanaliziranih posuđenica, prije svega dinamički raspoređenih fraktura, obrednih folk natruha (najkraća "Lost in silence" s vokalnim 'clean' mantrama) i povremeno galopirajućim black tutnjavama i niskim gitarskim štimovima.
Ima određene posebnosti i privlačnosti u ovoj fuziji tako da ljubitelji sludge i post-metala mogu pronaći adekvatnu zadovoljštinu tražeći neka nova uzbuđenja.
Naslovi: 1.Luscious red, 2.Bounds tied tight, 3.Lost in silence, 4.All of her, mine
ocjena albuma [1-10]: 7

horvi // 12/01/2016