eMCe plac u suradnji s Buba Booking & Promotion i Društvom ŠPIL predstavlja novu atrakciju doom legende Scott-a "Wino" Weinrich-a: Premonition 13 s predgrupama Entheogen i The Canyon Observer.
PREMONITION 13
Glazbeni rad Scotta "Wino" Weinricha već je među legendarnim. To su bendovi The Obsessed, Saint Vitus, Spirit Caravan, The Hidden Hand, Shrinebuilder, Adrift...
Poslje akustične faze s Adrift, Wino se s Premonition 13 vratio i na pojačalo i u full-bend format. Premonition kao idea nastaju iz 20 godina starih jamova, kad je Wino prvi put sreo gitarista Jima "Sparky" Karowa. "Jedan dan zajedno smo vježbali gitaru i imali smo jako dug razgovor o magnetizmu i pronašli zajednu ljubav prema latinskoj americi i antičkoj kulturi. Petnaest godina smo jamali samo ja i on, bez bubnjeva." kaže Wino.
U posljednje vrijeme, pridružili su im se bubnjar Mattheew Clark iz Ostinado i bivši basist Meatjack, Brian Daniloski i počeli su svirati pod imenom Premonition 13. Istoimeni album snimili su u Costa Mesi kod Briana McKinleya. "To je moj drugi bend sa dvije gitare nakon Shrinebuilder, a za razliku od drugih ovaj bend nosi sa sobom malo humora. A još uvijek smo kritični oko socialne situacije, negativnih utjecaja modernog društva i svega što nam smeta na svijetu."
Glazbeno Premonition 13 su blizu Black Sabbath, King Crimson pa i The Hidden Hand, koje Wino označava kao referentnu točku ovog benda.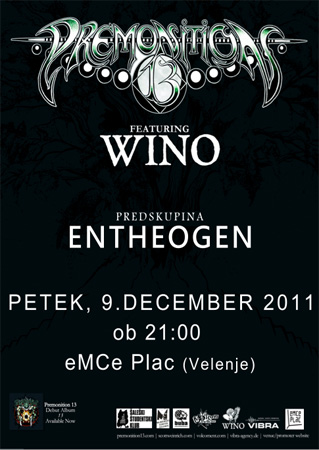 THE CANYON OBSERVER
The Canyon Observer je petočlani slovenski bend, koji se oslanja na post-metal zvuk u kombinaciji sa sludgeom i atmosferičnim noiseom. Ovog ljeta su prvi koncert imali kao predgrupa Russian Circles u MIKK-u, a drugi kao predgrupa Rosetti u ljubljanskom Orto baru.
Prvi EP naslovljen "Chapter I: The Current of Her Ocean Brings Me to My Knees"izašao je 20. listopada i donosi prve četiri studijske snimke The Canyon Observera. Uslijedila je turneja s Y. Pot koje je išla od Čakovca i Zagreba do Beograda, prek Makedonije i Bugarke natrag do Slovenije.
ENTHEOGEN
Prije skoro četiri godine, ujedinili su se bendovi MG Pistol rock (stoner rock) i Imakandi (math/post rock) i počeli zajednički glazbeni put. Postupak izrade materiala bio je vrlo dugačak, a Entheogen su konačno pripremili svoj prvijenac "Moons of Jupiter", koji će izaći najvjerojatnije u prvoj polovici 2012. Glazba je u osnovi math-sludge, ali se osjeća i utjecaj grupa Neurosis, Meshuggah, Pelican, Alice in Chains.
Ulaz 7 €
Ulaz sa rezervacijom 5 € (www.emceplac.si)
promo guy // 06/11/2011