U svjetskim razmjerima novi album zagrebačkog benda Sane bio bi idealan mainstream dodatak post-grunge bendovima poput Seether, Breaking Benjamin, Three Days Grace, Red, Cold, Talking Back Sunday, Theory Of A Deadman, Hinder, My Darkest Days i još cijeloj gomili izvođača s uglavnom američko-kanadske scene. Svi oni su redom sljedbenici velike četvorke - Nirvane, Soundgarden, Pearl Jam i Alice In Chains uz obavezne patetične izlete s komercijalnim elementima Nickelback, a katkad i pomodarnim MTV bendićima kao što su The Calling, D4, Keane, a bome u posljednje vrijeme i Maroon 5. Mnogi svjetski kritičari cijelu ovu scenu često degradiraju upravo zbog plitkosti poetskog izraza u kome je glavno težište na emocijama i odnosima u intimnoj vezi pa tako neki bendovi već godinama štancaju jedne te iste teme u kojima se čak niti ništa bitnije ne trude izmijeniti kontekst.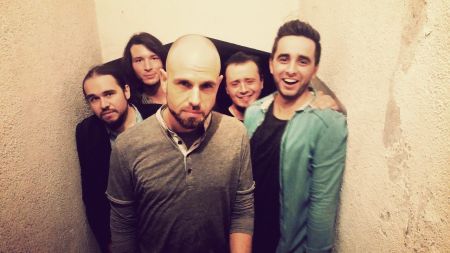 Sane - nova postava
A što se tiče slučaja našeg istosmjernog predstavnika u tom fahu, oni su, kao što znate imali jednu veliku priliku koncem prošlog stoljeća koju nisu iskoristili. Mogli su komotno postati dio te izuzetno komercijalne i stadionski popularne gomile, ali sudbina im je namjenila nešto posve drugo. S vremenom su prešli na hrvatski jezik, svirali obrade, održavali tjedne gaže u Saxu i gotovo kreativno potonuli pretvorivši se samo u solidan i vrlo zabavan cover bend. No, snaga i samopouzdanje su im se ipak vratili. Strpljivo su radili nove kompozicije isključivo na engleskom jeziku, a frontmen i gitarist Nikola Marjanović je u međuvremenu pokrenuo novi bend Radio Luksemburg s kojim je ostvario zavidne radijske pop hitove. Na koncu konca, od para se živi, a ne od kreativnog izraza kome nitko osobito ne pridaje neke pažnje u ovako malenom i skučenom prostoru hrvatske rock scene.
Enivej, novi album je ravnomjerno raspoređen na brže i laganije pjesme koje su mahom obasute gomilama emocija, melodramatike, temama o slomljenim srcima, razdražljivosti, unutarnjim frustracijama, patnjama i inim avanturicama u kojima uvijek netko emotivno nastrada, a vrlo rijetko se usreći. Dakako, u svemu tome ima mnogo romantike, sjete i zanosa, osobito onog poetskog naglašenog sjajnim vokalom, jednim od ponajboljih rock grla na ovim našim područjima. Novina jest da bend više nije trojac - Nikoli, Štefu Drito Konju (bubnjevi, gitara) i Sebastijanu Juriću (bas, mandolina) pridružili su se Karlo Kurtalj (gitara, bas) i Dan Divjak (klavijature, gitara), pa je tako kompletna postava gotovo sposobna da se mijenja na instrumentima kad god to poželi. Uostalom, skoro svi oni su i jako dobri vokalisti koji često uskaču s pratećim dionicama, a katkad isplivaju i u prvi plan (osobito u najbržoj stvari "I got love") što će reći da je u kompaktnosti svirke i izraza misija novog albuma obavljena na studiozno detaljiziranom nivou. Bez greške (kod Marka Mrakovčića).
Od 12 autorskih pjesama 3 su raspoložive i za novi solo album Drito Konja "Drawing Birds", a riječ je o "Travel", "Kate Nash" i "Silence", uglavnom laganicama i humpa-cumpa pjesmuljcima koje on sam pjeva i to vrlo dobro tako da se gotovo u kontekstu albuma niti ne primijeti ta vokalna promijena. "Kate Nash" previše evocira na The Beatles, brit-pop i Robbie Williams furke, no tko zna. Možda uspije s ovom forom negdje na Otoku... Pjesme u kojima je Nikola u vodećem planu kreću od ranije znane, jedne od ponajbolje i najžešće "Envy & pride" s kompilacije "Sampled: the Best of Croatian Rock Production (d.i.y., 2013)" (također je prisutna i poluakustična "Tic tac"), preko prilično tromih, ali solidnih rokačina "By the end of", "Maybe tomorrow" (s ponešto stoner riffova) i "Hypnotize", te završne "Thank you" u kojoj se prati minimalistička dinamika od laganice do eksplozije u refrenu. Ostatak materijala je vrlo sentimentalan, lagan i baziran isključivo na baladičnim tonovima ("Stay", "Fallen angel"...), no kao cjelina, album je striktno fiksiran na primamljivim i vrlo jednostavnim pjesmama koje se miš-maš izmijenjuju svojim stilskim i ritmičkim performansima u kojima nažalost manjkaju egzibicije i ono 'nešto' posebno po čemu bi se Sane mogao izdvojiti iz mora sličnih bendova.
Sve tu ima svoje arome zbog Nikolinog vokala i komercijalno odmjerenog balansa koji se na svu sreću ne baždari pliticom za mjerenje žabokrečine, no teme i sama melankolija koja izbija na površinu ne ostavlja dovoljno upečatljiv r'n'r stav. Nema borbeni, niti protestni, a kamoli buntovan duh, već onaj nezainteresirani, pasivni, tipičan flegmatični gard ka općenitoj društvenoj klimi u kojoj je jedina interesna sfera samo seks i rock bez ikakvih poroka i krucijalno važnih umjetničkih preokupacija. Glazbeno komercijalno i pitko, umjetnički mršavo, plastično i eklektično.
Naslovi: 1.Envy & pride, 2.By the end of, 3.Travel, 4.Maybe tomorrow, 5.Tic tac, 6.Hypnotize, 7.Stay, 8.I got love, 9.Kate Nash, 10.Silence, 11.Fallen angel, 12.Thank you
ocjena albuma [1-10]: 6

horvi // 11/10/2014