Čuli ste "Daft Punk is playing at my house"? Da? Onda je sve mnogo jednostavnije... Niste? Svejedno, upoznajte nekoga od koga valja očekivati brdo dobrog feelinga. Ples iznad svega!
Iza ovog imena nalazi se produkcijski band James Murphya, osobenjaka koji se još prošle dekade družio sa Tim Goldsworthiyem, suradnikom na legendarnoj kompilaciji Mo-Wax s kojom je teoretski obznanjen termin trip-hop prije desetak godina. (između ostaloga, surađivao je i sa David Holmesom). Murphy je rođen 1970. u Princeton Junctionu u New Jerseyu a iza sebe ima kratkotrajne avanture u sastavima Pony (1992 - 1994) i Speedking (1995 - 1997) koji su se praćkali u neuspješnosti pod okriljem Tiger Style Records. Za svoj glazbeni utjecaj u svakoj prilici spomenuti će punk, kraut rock i new wave - od The Birthday Party, Talking Heads, Neu, Brian Enoa, Liquid Liquid, Can, Public Image Limited, The Stranglers, Black Flag do Violent Femmes i The Mission, no najviše od svega istaknuti će svoje jedine Beatlese - Mark E. Smitha i The Fall.
Nakon gotovo dvadesetak godina neuspješnog pionirskog rada, konačno se seli tamo gdje je ustvari uvijek želio biti - u New York, te početkom 21. stoljeća uglazbljuje svoju kreativnu energiju u specifičnu smjesu elektronike, punka, funka i rocka nazvavši se LCD Soundsystem i oko sebe okuplja prateću postavu za koncerte - Pat Mahoney (bubnjevi), Nancy Whang (klavijature, vokali), Tyler Pope (bas) i bivši ex-Sabres Of Paradise - Phil Mossman (gitara, udaraljke, bas). Prvi singl koji objavljuje pod imenom LCD bio je "Losing my edge" 2002. godine, odličan plesni elektronski funky rock koji je unatoč izuzentnom tekstu koji govori o njegovom odrastanju uz glazbene tokove na poprilično sarkastičan način (od Captain Beefhearta, reaggea, Beach Boys, Lou Reeda, Human League, Soft Cell, The Smiths, do Detroit techna) prošao gotovo nezapaženo. No, upravo ga je takav način rada zadržao na toj glazbenoj shemi (minimalizam, naglašeni bas i ritam), te je odlučio da krene samo tim smjerom. Ubrzo su se počeli redati novoskladani songovi, slali su se demo materijali, a najviše zanimanja za njih pokazao je upravo njegov bivši suradnik Goldsworthy koji je osnovao DFA Records.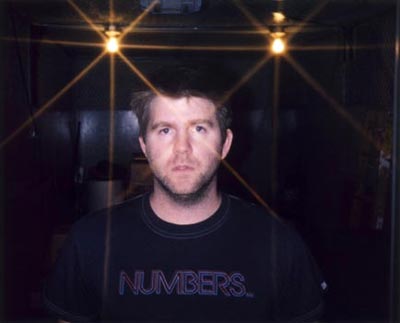 james murphy © www.lcdsoundsystem.com
U dvije godine LCD rada, Murphy je napisao gomile kompozicija, te je odlučio da album prvijenac objavi kao dvostruki cd sa 16 naslova koji traju više od 100 minuta. Album je izuzetna smjesa rocka ("Tired"), electro punka a'la A.R.E. Weapons / Atari Teenage Riot / Alec Empire ("Movement"), plesnog funk-rocka ("Give it up"), electro-popa ("Too much love", "Tribulations", "Thrills", "Disco infiltrator"), Detroit techno utjecaja ("Beat connection"), uvrnute psihodelije, različitih produkcijskih efekata, odličnih elektronskih štoseva, a ono s čime album obiluje jest bogatstvo plesa i obilate zabave na inteligentan način. U naslovu "On repeat" LCD se poigravaju sa elektronskim minimalizmom, gitarističkim GO4 sekvencama, mnogobrojnim kraut-rock inačicama (efekti, razvučena struktura, delay) i nezaobilaznim The Fall aranžmanom. Jedina kompozicija koja odskače od ostatka materijala jest laganiji broj "Never as tired when I'm waking up" koji djeluje kao da je uzet iz arsenala velikih rock izvođača poput Radiohead ili R.E.M.
Uz ultimativni zarazni rock hit-singl "Daft Punk is playing at my house" (koji je ustvari parodija na dotični dvojac), nedavno je objavljen i novi singl "Yeah" koji je najlakše protumačiti kroz prizmu starog "ecstasy" electro-popa (Yello, Soft Cell, Human League), dijela otkačenog new wavea (Talking Heads, Pere Ubu) i kombinacije techno trancea (Chemical Brothers, Moby, Primal Scream). Ovaj odličan osvježavajući dvostruki rad zatvara ironična "Yr. city's a sucker" koja u mnogo čemu podsjeća na T. Heads ("Seen and not seen") uz obilje lagane down-tempo atmosfere The Fall.
Sve skupa - čista desetka i moj je prijedlog za jedan od najboljih plesnih albuma ako ne godine, onda prvog polugodišta 2005!
ocjena albuma [1-10]: 10

horvi // 08/06/2005