Ovoga puta, u petak 29.01., pažnju ćemo posvetiti jednom od najvećih bendova današnjice, a to je legendarna Metallica! Ako ste kupili kartu za ovogodišnji koncert u Zagrebu, ili to namjeravate svakako ne propustite ovu večer jer će se puštati svi njihovi najveći hitovi od kultnog "Kill 'Em All" do najnovijeg i odličnog "Death Magnetic"!
Ako ste željni i ostale glazbe DJ-i Sange i Yasha za vas puštaju još i: The Beatles, Chuck Berry, The Rolling Stones, Led Zepellin, Dire Straits, Jimi Hendrix, Stevie Ray Vaughan, Guns N' Roses, Prljavo Kazalište, Damir Urban, Billy Idol,, Hladno Pivo, The Ramones, Misfits, Six Pack, Đubrivo, Flogging Molly, The Exploited, Korn, Deftones, Black Sabbath, Iron Maiden, Pantera, Sepultura, Slayer, Children Of Bodom, In flames, Cannibal Corpse, Cradle Of Filth, Decapitated, Meshuggah, Fear Factory, Slipknot...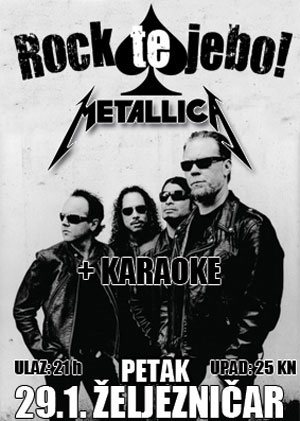 ...I naravno "Rock te jebo!" ne bi bila večer da nema karaoka, stoga svatko tko je hrabar stati pred publiku može isprobati svoje vokalne sposobnosti!
Upad je moguć od 21h po cijeni od 25 kuna.
promo guy // 24/01/2010