DARK SIDE by Tomi Phantasma
The Cure night
04.03.2016. petak od 23:00
GK Jabuka, Jabukovac 28, Zagreb
U petak 4. ožujka će se u zagrebačkoj Jabuci u sklopu programa Dark Side održati večer posvećena jednom od najvećih svjetskih rock grupa i miljenika jabučarske publike, The Cure, grupe koja je svoj put započela u punk i post punk sceni, zatim postala kultna dark/gothic legenda, da bi na kraju postala jedna od najvećih svjetskih rock grupa.
The Cure su nastali 1976. godine, u godini punk eksplozije, i ove godine slave četrdeseti rođendan. Glavna karika cijele priče je rock ikona Robert Smith, pjevač, gitarist i autor većine pjesama. Prvi album "Three Imaginary Boys" su objavili 1979. godine. Početkom 1980. godine za američko i australsko tržište album izlazi pod imenom "Boys Don't Cry" i ima nekoliko različith pjesma uključujući "Boys Don't Cry", pjesmu koja se ne nalazi na prvom izdanju, a koja postaje i ostaje do današnjih dana njihova najpopularnija pjesma. Album je tipičan post punk, new wave album. Već na drugom albumu "Seventeen Seconds" The Cure zaplovljavaju u dark vode i postaju pored Joy Division i Bauhaus vodeći bend nove dark rock scene. Na albumu se nalazi njihov drugi najveći hit "A Forest". The Cure prolaze kroz razne faze i personalne promjene, no baza fanova je iz godine i godine rasla pa su tako postali od post punk banda opće prihvaćeni i cijenjeni rock band koji se svakodnevno vrti na radio postajama i klubovima širom kugle zemljske.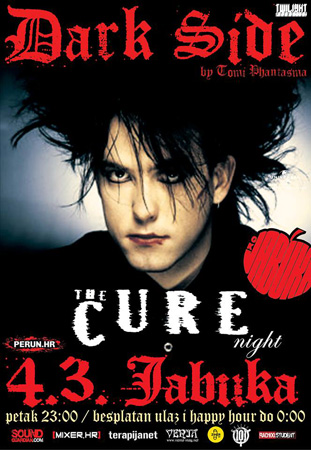 The Cure su do danas objavili trinaest studijskih albuma, više live albuma i DVD-a. Ove godine se navršava četrdeseta obljetnica osnivanja The Cure, a proslavit će je velikom svjetskom turnejom po arenama širom svijeta. Na žalost turneja neće obohvatiti i našu zemlju pa će tako ostati da The Cure nikada nisu nastupili u Hrvatskoj. Najbliže destinacije su Budimpešta, Beč i Milano gdje će The Cure nastupiti u listopadu ove godine. No, zato ćemo u Jabuci priredit večer posvećenu The Cure gdje ćemo prvo odvrtiti koncert "The Cure Live In Orange" snimljen 1986. godine u francuskom amfiteatru Theatre antique d'Orange u francuskoj pokrajini Vaucluse. Nakon toga slijedi The Cure slušaonica po izboru Tomija Phantasme, a nakon toga klasični Dark Side program gdje će Tomi Phantasma vrtit sve mračne "jabučarske" hitove od osamdesetih do danas; Bauhaus, Love & Rockets, Siouxsie & The Banshees, Joy Division, David Bowie, Iggy Pop, Red Lorry Yellow Lorry, The Cult, Christian Death, The Sisters Of Mercy, The Mission, Fields Of The Nephilim, Virgin Prunes, Mizar, EKV, Clan Of Xymox, Killing Joke, Cassandra Complex, Echo & The Bunnymen, Pixies, Violent Femmes, Nick Cave, Jesus & Mary Chain, The Cramps, The Smiths, Depeche Mode, Ultravox, Simple Minds, Human League, Laibach, DAF, Nitzer Ebb, OMD, A Flock Of Seagulls, Die Krupps, Front 242, Borghesia, Diva Destruction, Roseta Stone, Heroes Del Silencio, Nine Inch Nails, Marylin Manson, Placebo, London After Midnight, Editors, Covenant, White Lies, Love Amongst Ruin,...
Vrata Jabuke se otvaraju u 23 sata, do ponoći je ulaz slobodan i happy hour na šanku, a nakon ponoći se ulaz plaća 20 kn.
Dobrodošli!
promo girl // 27/02/2016