''Ako su vaša vjerovanja stvarno toliko krhka da se bojite kako bih ih ja, jedna osoba, jedan umjetnik s bendom, mogao svojim dolaskom ugroziti, onda se dobro zapitajte u što i kako vi to zapravo vjerujete. '' poručio je Marilyn Manson onima koji pokušavaju spriječiti održavanje njegovog koncerta 22.08.2005. u pulskoj Areni, nadodavši da iza njegovog imena i pojave ne stoji apsolutno nikakva opasnost za bilo koga, a pogotovo ne za mladež koja sluša njegovu glazbu.
U tri ekskluzivna telefonska intervjua, koja je Manson u ponedjeljak dao za hrvatske medije, s veseljem je najavio svoj skorašnji koncert i rekao da ga posebno veseli gostovanje u Hrvatskoj i Puli, u prekrasnom i monumentalnom prostoru Arene, osobito zato što će tamo biti prvi put, te jer se naslušao priča kolega i vidio fotografije iznimno atraktivnog prostora u kojem će održati koncert.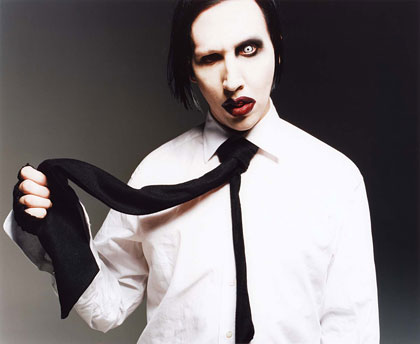 Kids, don't do this at home!
Za četiri dana Arena će zasigurno biti ispunjena do posljednjeg mjesta, što obožavateljima, što znatiželjnicima, jer ako Marilyn Manson nešto zna, onda je to napraviti dobru predstavu. Nemojte je propustiti.
ana // 18/08/2005