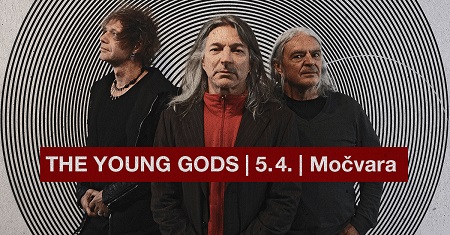 U Zagreb nam se po peti put vraćaju legendarni Švicarci The Young Gods! Uz Nine Inch Nails i Ministry, The Young Gods su bez dvojbe najznačajniji predstavnici industriala, koji već preko trideset godina stvaraju jedinstvenu glazbu i pomiču granice: od punka za strojeve preko surealnog kabarea do šamanske elektronike, ali uvijek ostaju originalni i svoji.
Značaj koji The Young Godsi imaju za glazbenu scenu teško je dočarati, no dovoljno je napomenuti da su ih kao izvor nadahnuća navodili Nine Inch Nails, ali i David Bowie te, vjerovali ili ne, U2. Da vas ne zamaramo s detaljima o diskografiji The Young Godsa, no vrijedi spomenuti da su u dosadašnjoj karijeri objavili 11 albuma, a novi album "Data Mirage Tangram" objavljen je u veljači ove godine.
U Močvari smo ih zadnji put gledali 2007. i jako nas zanima kako se bend od tada promijenio i što su nam pripremili za ovaj put. U svakom slučaju, izgledno je da se radi o koncertu za pamćenje, stoga vam preporučujemo da ga ne propustite ni za živu glavu!
Upad u pretprodaji: 65 KN, na dan događanja na blagajni kluba: 80 KN
FB EVENT:
https://www.facebook.com/events/340449156722918/
promo guy // 01/04/2019