Legendarni kanadski prog/thrash metalci VOIVOD stižu u utorak 3. listopada u zagrebački Vintage Industrial. Uz njih dolazi i njemački sludge/doomeri Earth Ship, koji su prošle godine izbacili studijski album za Napalm Records. Sve skupa jedna velika progresivna večer koji bi bilo šteta propustiti.
FB event:
https://www.facebook.com/events/703667289828404/
VIDEO:
http://www.youtube.com/watch?v=bvXaLZZ6M3M
VOIVOD
Karijera ovog benda imala je strmoglave uspone i padove. Od velikih diskografa i velikih turneja pa do malih gigova 90-ih godina. Iako su u karijeri dugoj 32 godine prošli svašta, Voivod je i danas jedan od rijetkih bendova svog žanra koji radi novu glazbu, a da se publika ne mora žaliti da je sve bilo bolje '88.
30. godišnjicu proslavili su kao jedan od najutjecajnijih metal bendova generalno. Ikad. Iza sebe imaju preko 20 službenih izdanja i još toliko, ako ne i više neslužbenih izdanja i demo snimaka.
Prvi album War and Pain, Voivod je objavio 1984. godine, dok je EP Post Society posljednje studijsko izdanje (2016, Century Media).
Postavu benda čine pjevač Denis Bélanger Snake, gitarist Daniel Mongrain Chewy, basist Dominique Laroche Rocky i bubnjar Michel Langevin Away. Originalni gitarista Denis D'Amour Piggy preminuo je 2005. godine, dok je basista Jean-Yves Thériault Blacky bend definitivno napustio 2014. Bitno je napomenuti da je u Voivodu svirao i Jason Newsted Jasonic (ex-Metallica) sa kojim su snimili tri albuma.
DISKOGRAFIJA:
War and Pain, 1984
Rrröööaaarrr, 1986
Killing Technology, 1987
Dimension Hatröss, 1988
Nothingface, 1989
Angel Rat, 1991
The Best of Voivod (compilation), 1992
The Outer Limits, 1993
Negatron, 1995
Phobos, 1997
Kronik (compilation), 1998
Voivod Lives (live album), 2000
Voivod, 2003
D-V-O-D-1 DVD, 2005
Katorz, 2006
Infini, 2009
Tatsumaki: Voivod in Japan 2008 DVD, 2009
Warriors of Ice (live album), 2011
Mechanical Mind, 7" Single Target Earth, 2013
www.facebook.com/Voivod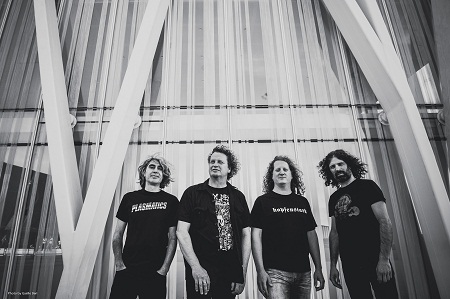 EARTHSHIP
Iz Berlina stižu sludge/metal/doomeri Earth Ship koji zvuče kao atomski razbijač leda koji urgira oko Barentsovog mora popraćen moćnim rifovima koji su pak zaliveni tonama domaćeg viskija. Tako nekako oni sebe vide.
Iza sebe imaju 5 izdanja, od čega je zadnji, ujedno i prošlogodišnji album 'Hollowed' koji su potpisali za Napalm Records. Relativno novo ime vrijedno vašeg vremena.
Na posljednjem albumu jako dobro se može zamijetiti inovativno i maštovito slaganje pjesama koje variraju od savršeno mirnih dijelova do eksplozije dinamike kako to rade bendovi poput Kylese i Crowbara, sve zajedno umotano u morbidne melodije koje podsjećaju na AIC. Nabacite na to sve malo monolitnog doom momenta i imate savršenu slušnu igračku.
http://www.facebook.com/wearetheearthship
promo guy // 05/09/2017