ANASAZI (New York, SAD)
Nakon sjajno posjećenih koncerata Hank Wood & The Hammerheads i Dawn of Humans, dovodimo još jednu senzaciju iz Velike Jabuke, a u pitanju je bend koji sa spomenutima izdaje ploče za već kultni Toxic State Records.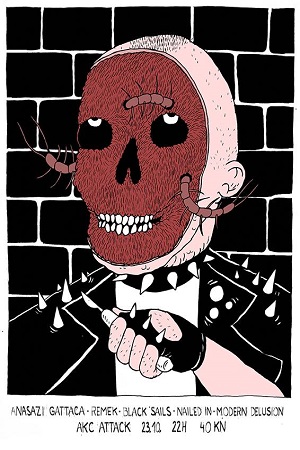 Anasazi sišu inspiraciju iz glazbe svojih predaka osamdesetih godina kao što su Christian Death, T.S.O.L., Bauhaus, The Gun Club, te ostalih subkultura urbane džungle 21. stoljeća. Nakon nekoliko objavljenih kazeta i singlica ove godine izbacuju dugo očekivani "Nasty Witch Rock" LP kojeg dolaze promovirati na svojoj prvoj europskoj turneji. Ne propustiti!
Nasty Witch Rock LP
https://lavidaesunmus.bandcamp.com/album/nasty-witch-rock-lp
Attic Noise 7"
https://www.youtube.com/watch?v=PFlGdgbneD0
GATTACA (Češka)
Karakterizira ih nešto mračniji zvuk s elementima crusta i D-Beata, angažirani tekstovi i izraženi stav. Oba benda su dio Coffee Nerds for Liberation kolektiva. Vegani, borci za prava ljudi i životinja, te općenito nešto bolji svijet. Prvi put idu na balkansku turneju i vjerujemo da će potvrditi sad već kultni status koji uživaju u ostalom dijelu europskog kontinenta.
stream: https://gattaca.bandcamp.com/
REMEK (Češka)
Zajedno s Gattacom jedni su od nosilaca DIY punk/hardcore scene u Češkoj posljednjih nekoliko godina. Zvuk koji ih karakterizira je 90's emo hardcore, a radi se o odličnom sastavu s veoma energičnim nastupima.
stream: https://remekdiy.bandcamp.com/
BLACK SAILS (Zagreb)
Tamno obojani moderni hardcore punk s povremenim uplivima u d-beat teritorije. Bend nije potrebno previše predstavljati, ali valjalo bi napomenuti da su nedavno završili sa snimanjem novog debi albuma koji će nam ovim putem i promovirati. Fanovi Cursed, Blacklisted, Rise And Fall ne bi trebali ostati ravnodušni!
stream: http://blacksails.bandcamp.com/
NAILED IN (Zagreb)
Ekipa okupljena u Nailed In ima podosta scenskog staža iza sebe jer su članovi prošli kroz mnoge bendove, a samo neki od njih su Declaration, Passive Aggressive, Black Gust i Intrigue. Ono što od Nailed In možete očekivati je brzi i nervozni hardcore punk u stilu bendova poput Tear It Up, Negative Approach i recimo Side By Side.
fb: https://www.facebook.com/nailedin
Ovaj koncert je ujedno i prvi koncert bendova Black Sails i Nailed In na njihovoj zajedničkoj europskoj turneji!
MODERN DELUSION (Zagreb)
Synth punk trio iz Zagreba o kojemu svi koji iole prate događanja na domaćoj DIY sceni već sve znaju. Bend iza sebe ima dvije izuzetno dobro prihvaćene europske turneje, a trenutno promovira album prvijenac naziva ''Days Of Us'' na Doomtown Recordsu.
Zvuk benda je najlakše opisati kao fuziju garažnog i synth punka s poprilično mračnim i atmosferičnim odmakom u stilu The Screamers, Urinals i Devo, te domaćih Paraf u kasnijoj post punk fazi.
Days Of Us LP
https://doomtownrecords.bandcamp.com/album/modern-delusion-days-of-us-12
fb event: https://www.facebook.com/events/1470469006594119/
Upad: 40kn
Vrata: 21h
Koncert: 22h
promo guy // 20/10/2015