Kao i
WAR CHILD
, tako i RED+HOT kompilacije imaju dugačku tradiciju i svaka nam donosi pregršt novih odličnih pjesama aktualnih izvođača i to od samih početaka kad smo na vinilu okretali RED+HOT+BLUE, kompilaciju posvećenu AIDS-u, preko RED+HOT+RIO na kojoj su bili predstavljeni brazilski izvođači, do najnovije DARK WAS THE NIGHT, koja je objavljena u suradnji s 4AD etiketom. Da ja ne pričam previše, link (http://www.redhot.org/projects/index.html) na sve projekte je tu, pa zainteresirani mogu pogledati bogatstvo pjesama i izvođača koji su radili nešto za ovaj projekt.
Čim se spomene Red+HOT, upućeni znaju da tu svoje prste ima David Byrne, a kad je koaliciji s 4AD, također se zna što se može očekivati. Tako su se na ovom opširnom izdanju na 2 cd-a našle novije "mračne" zvijezde kao što su Bon Iver, National, My Brightest Diamond, Iron & Wine, te Arcade Fire, Beirut, David Sitek bez TV on the Radio, ali i veličine kao David Byrne, Yo La Tengo, Sufjan Stevens, dok je najzanimljivija kolaboracija ostvarena između Blonde Redhead i Devastationsa. Naravno, ima tu i mlađih izvođača i potencijalnih zvijezda, nek se ne naljute oni koje nisam spomenuo.
Među 31 pjesmom ima nekoliko obrada te dosta novih autorskih pjesama. Ovdje ću nabrojati samo vrhunske ubode, a ostalo oni koje zanima mogu pronaći na gore navedenoj stranici.
Feist i Ben Gibbard imaju odličnu polu-country obradu Vashti Bunyanove, Train Song. The National, Decemberists kao ni Bon Iver u posljednje vrijeme nemogu pogriješiti. Njihove So far Around the Band, Sleepless i Brackett, W i su među najboljim, a ujedno i najljepšim pjesmama na kompilaciji. Arcade Fire prizvali su Lenina i napravili još jednu odličnu pjesmu u svom stilu. S Mimizan sam shvatio da su mi Beirut ipak dobri, ako ih slušam u malim količinama i sporadično. My Morning Jacket imaju jednu "a-la" Shakin Stevens, dok su Sharon Jones u suradnji s Dap Kings odradili jednu u jako popularnom Motown stilu.
Operna diva Shara Worden sa svojima My Brightest Diamond obradili su Feeling Good. Njen glas s povremenim trubljama daje mističnu atmosferu ovoj pjesmi, iako smatram da će još dugo neprikosnovena ostatti obrada te pjesme u MUSE aranžmanu. Dave Sitek se otisnuo, nadam se nakratko, od TV on the Radio i obradio With a Girl Like You od The Troggsa, koja stvarno lijepo zvuči u ovoj izvedbi.
I tako bi stvarno mogao nabrajati sve dok ih svih 31 ne nabrojim. A svaka je posebna sama za sebe. I još k tome i dobrotvorna. Odlična kompilacija!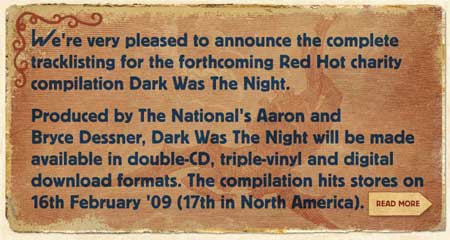 DARK WAS THE NIGHT
THIS DISC
1 Knotty Pine - Dirty Projectors + David Byrne
2 Cello Song (Nick Drake) - The Books featuring Jose Gonzalez
3 Train Song (Vashti Bunyan recorded, written by Alasdair Clayre) - Feist + Ben Gibbard
4 Brackett, WI - Bon Iver
5 Deep Blue Sea - Grizzly Bear
6 So Far Around the Bend - The National (arrangement by Nico Muhly)
7 Tightrope - Yeasayer
8 Feeling Good (popularized by Nina Simone) - My Brightest Diamond
9 Dark Was the Night (Blind Willie Johnson) - Kronos Quartet
10 I Was Young When I Left Home (Bob Dylan) - Antony + Bryce Dessner
11 Big Red Machine - Justin Vernon + Aaron Dessner
12 Sleepless - The Decemberists
13 Stolen Houses (Die) - Iron and Wine
14 Service Bell - Grizzly Bear + Feist
15 You Are The Blood - Sufjan Stevens
THAT DISC
1 Well-Alright - Spoon
2 Lenin - Arcade Fire
3 Mimizan - Beirut
4 El Caporal - My Morning Jacket
5 Inspiration Information (Shuggie Otis) - Sharon Jones & The Dap-Kings
6 With A Girl Like You (The Troggs) - Dave Sitek
7 Blood Pt 2 (based on original song "You are the Blood" by the Castanets) - Buck 65 Remix (featuring Sufjan Stevens and Serengeti)
8 Hey, Snow White (Destroyer) - The New Pornographers
9 Gentle Hour (Snapper) - Yo La Tengo
10 Another Saturday (traditional song) - Stuart Murdoch
11 Happiness - Riceboy Sleeps
12 Amazing Grace (traditional song) - Cat Power and Dirty Delta Blues
13 The Giant Of Illinois (Handsome Family) - Andrew Bird
14 Lua - Conor Oberst + Gillian Welch
15 When the Road Runs Out - Blonde Redhead + Devastations
16 Love vs. Porn - Kevin Drew
ocjena albuma [1-10]: 10

pedja // 09/03/2009