Prvi WAR CHILD projekt pod nazivom "Help!" objavljen je 1995 s kremom tadašnje britanske glazbene scene (Oasis, Boo Radleys, Stone Roses, Radiohead, Portishead, Massive Attack, Suede…). Uh, strašna kompilacija. Bila je posvećena stradalima u Bosni i Hercegovini. Uslijedili su i drugi WAR CHILD projekti, manje-više uspješni, no čini se da je ovaj ipak najviše uzdrmao svjetsku javnost. Možda zato što je bio prvi takav. Možda se to meni samo čini jer je bio usmjeren na naše bliže susjedstvo. Neznam…
Svaki je WAR CHILD cd donio pregršt novih pjesama i dobrih obrada i onih manje dobrih. Tako je i s najnovijim, čija je zarada namijenjena djeci stradaloj u ratu. Zanimljiv je i način na koji su odabrane pjesme koje će se naći na albumu. Zamoljeno je 16 legendarnih izvođača da preroštaju malo po svojem back katalogu i odaberu pjesmu i mlađeg izvođača koji će je izvesti.
Tako je Dylan odabrao Becka, Paul McCartney Duffy, Bowie TVon the Radio, U2 Elbow i tako dalje. Kompilaciju otvara Beck sa svojim viđenjem pjesme Leopard-Skin Pill-Box Hat. Ne volim Dylana, pa čak ni njegove obrade, no ovu mogu svrstati u slušljivije. Članovi grupe Roxy Music zamolili su Scissor Sisters da obrade Do the Strand. Kakva dobra kombinacija. Savršeno! Lilly Allen je uz pomoć Mick Jonesa malo doradila Straight to Hell i dala joj jednu sakralniju verziju, od originalne. Nažalost, dvije minute je preduga, pa malo dosadi.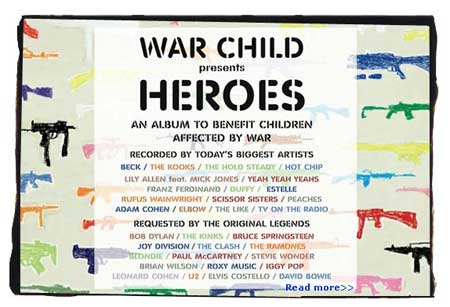 Slijede dva razočaranja. Duffy, velika pobjednica ovogodišnjih Britsa, uhvatila se u koštac s Live and Let Die. No čini se da nije previše slušala original, već se puno bavila sa Guns'n'Roses verzijom iste pjesme, pa sad imamo "sračkasti" glas Duffy umjesto "proljevastog" Axlovog na malo blažoj glazbenoj podlozi. Running to Stand Still je prekrasna pjesma, al Bono i drugovi, odabrali ste krivu pjesmu za krivog izvođača. Na stranu što ja nevolim Elbow, al oni su učinili upravo ono što se nesmije. Preslušali su pjesmu i otpjevali i odsvirali isto ko i U2. Nisu čak ni tonalitete promijenili. Nešto slično su učinili i Yeah Yeah Yeahs sa Sheena is a Punk Rocker (al oni se mogu izgovarati da imaju ženski vokal) i The Kooks s Victoriom od Kinksa.
Od zanimljivijih tu su Heroes u TV on the Radio izvedbi i Transmission u Hot Chip izdanju. Heroes je sva u elektronici, dok je Transmission uz gomilu elektronike još i usporena. Ostatak je slušljiv i nenametljiv, no nikad nebih rekao da Wonderovu Superstition pjeva žena (Estelle), da nisam pročitao na omotu, isto tako da nikad nisam čuo Atlantic City u originalu, nakon obrade grupe Hold Steady, znao bi da je to Springsteenova pjesma.
Za kraj je ostavljena Call Me u izvedbi Franz Ferdinanda. Nakon preslušavanja cda, znam i zašto. Jednostavno zato jer prije te pjesme možeš zaustaviti plejer i ne slušati to.
Rezultat je još uvijek na strani boljih pjesama ali nažalost, kompilacija nije iznjedrila više od dvije-tri extra klasa pjesme. Pritom mislim prvenstveno na Scissor Sisters, TV on the Radio, ali i, priznajem, Becka.
ocjena albuma [1-10]: 8

pedja // 06/03/2009