Damon Albarn je bez sumnje genijalac. Covjeka koji je kreirao Blur, Good Bad and the Queen, Gorillaz, Mali Music i ko zna sto jos, je tesko bilo kako drugacije nazvati. Ipak, cak i najveci genijalci promase metu a Damonu se po mom misljenju to dogodilo sa operom Monkey (Journey To The West).
Ova kolaboracija sa Jamie-om Hawlett-om je adaptacija kineskog romana iz 16-og stoljeca i unatoc konotacijama nema veze sa Gorillaz, te je pomalo teska za slusanje. Mozda je recenzirati soundtrack opere jednako recenziji filma na osnovu scenarija ali s obzirom da je Damon to objavio kao cd vjerujem da to ima smisla. U 20tak pjesama i 50 minuta na ovom albumu najvise prednjace kratke, cudne i bizarne (da ne kazem eksperimentalne) pjesme koje zaista cudno zvuce bez vizualne pozadine.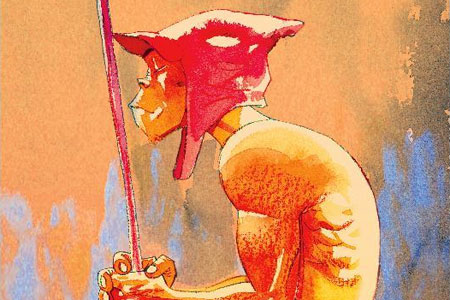 Ipak, Damon ne bi bio Damon da tu i tamo ne odusevi kao sto je recimo rijec u kratkoj "The Living Sea" koja unatoc mandarinskom jeziku zvuci kao nesto sto bi svojevremeno Blur napravio. S obzirom na sve, "Monkey (Journey To The West)" je izdanje koje je prvenstveno stvoreno za Damon Albarn fanove. Ostali ce vjerovatno iz znatizelje jednom poslusati ovaj album, brzo ga zaboraviti i nastaviti cekati sljedeci album Gorillaz.
ocjena albuma [1-10]: 4

kris // 23/09/2008