Kako mi na Terapiji vecinom imamo ponesto godina iz sebe, cesto se sjecamo dana kada nije bilo interneta i kada je nabavka svakog albuma bila kao praznik. Jer budimo realni, danas malo tko osjeti onaj fenomenalan osjecaj kad svakodnevno obilazis cd shop i nadas se da su napokon dobili album koji cekas - pa trcanje kuci i slusanje uz pregledavanje omote - jednom rjecju, ekstaza! Kako posljednjih godine sve leaka na net i par mjeseci prije izlaska albuma, cesto dolazak albuma u cd shop postaje svojevrsni antiklimaks jer dok se nesto pojavi u cd shopovima vec si toliko preslusao taj album da ti je on daleko od noviteta.
nakon svega recenog iskreno mi je nevjerojatno da smo skoro to ponovo dozivjeli s novim, povratnickim album James-a, jer vjerovali ili ne album nije leakao! Kako mi jako jako volimo James nismo ni sumnjali da ce album biti dobar jer je uostalom i povratnicki single "Whiteboy" genijalan, pa smo na dan samog izlaska album poceli groznicavo obilaziti cd shopove u Zagrebu. Medutim, plan propao. Izgleda da nitko u shopovima nije cuo da James uopce postoje a najjaci je bio prodavac u Dancing Bearu koji nas je uvjeravao da nema sanse da se netko zove samo James vec da biti nesto iza toga (James Blunt?). Na kraju smo popustili, skinili album s neta a kupit cemo ga jednom kad se netko odluci to naruciti. Steta.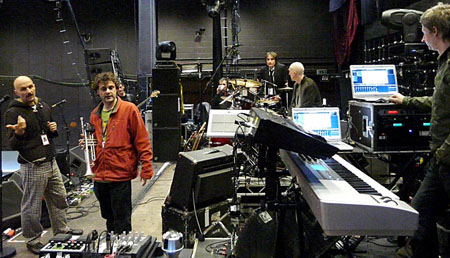 James
A novi album James-a! Pa album je naprosto genijalan! Nije da jer Tim Booth sposoban napraviti nesto lose al tako ga je dobro cuti kako u prvoj pjesmi pjeva "I'm Alive". Album se po zvuku najvise oslanja na legendarni "Seven" jer su se u zvuk ponovo vratile trube, a ne nedostaje i laganijih pjesama po uzoru na zadnja dva album. Od njih posebno treba izdvojiti genijalnu "Boom boom" koja, iako je nova pjesma, zvuci kao da je s nama zauvijek.
Najbolja pjesma na album je ipak "Whiteboy" koja svojom histerijom uzdize zvuk James-a na nove visine i mislim da ce biti live hitcina bez premca.
Sve u svemu, album je pravo malo remek djelo na kakva smo mi koji volimo James i navikli.
Ostali koji ih nikad nisu ni podnosili ne trebaju se previse truditi ni s ovim albumom jer ce im sigurno biti bezvezan kao i svi ostali...
ocjena albuma [1-10]: 10

kris // 25/04/2008