Beogradski trio On Tour, na svom je "neprekidnom putovanju" stigao i do trećeg albuma. Ne znam, koliko su Ivana, Vladimir i Marko na početku bili svjesni u što će se ovaj "side-projekt" pretvoriti, ali siguran sam da nisu požalili što su se prije pet godina našli
na odgođenom koncertu
The Mothership Orchestra i krenuli svirati...
Kako bilo, "Don't it Make You want to go Home" objavljen je nedavno, a oni su u istom sastavu prevalili kilometre i kilometre i odsvirali koncerte i koncerte. Lorries and Trucks s kojom su najavili album, samo potvrđuje njihov status na sceni, koja baš ne obiluje ovako kvalitetnim akustičnim folk sastavima. Odličan Ivanin vodeći vokal, nadopunjuje Vladimirov taman koliko treba, a lap steel gitara daje onaj pravi "cestovni" štimung. Ona se na albumu nastavlja na još jednu "cestovnu", no u ovoj Vladimir preuzima glavni vokal, a glavni je lajtmotiv usna harmonika.
I tako se tijekom cijelog albuma u glavnim ulogama izmjenjuju njihovi vokali, a instrumentalni dio, iako minimiziran i sveden na akustičnu gitaru i mandolinu, uz povremenu upotrebu usne harmonike, ugodnih perkusija ili trunke električne gitare, daje upravo onoliko koliko treba od takve muzike da nadopuni vokale. Ivanin vokal tako dominira u emotivnim Cry with no Reason ili 1000, "saloonskoj" Gun ili završnoj Whisper. Vladimir, pak drži sve konce u rukama u pomalo etno-zvučnoj My Little Girl, neilyoungovskoj Safe Way Home ili razigranoj Surprise.
Ipak, On Tour najbolje funkcioniraju u međuigri Ivaninog i Vladimirovog vokala, što se definitivno čuje u predivnoj uvodnoj Is Your Heart Set on Loving Me, Baby ili Secondhand Saints, i da nema prijespomenutih odličnih pjesama, mogao bih se požaliti na manjak dueta. Ovako... nek im bude.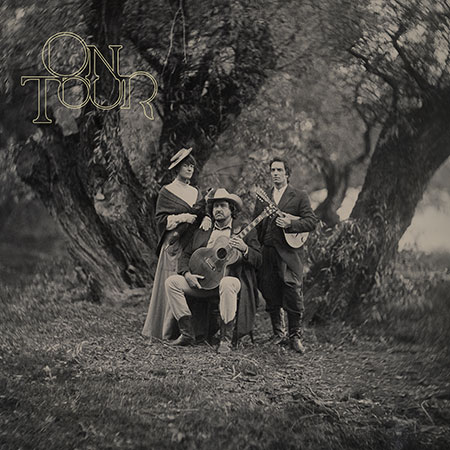 Iako nemam običaj komentirati i izdvajati naslovne strane albuma, ova naslovnica baš me pozitivno pogodila, i da se biraju naj naslovnice u 2017, ovo bi bio moj prijedlog. Slično je i s onim što se nalazi ispod naslovnice, odnosno muzičkim dijelom. Cijeli album, u ovoj bogatoj diskografskoj godini na prostorima regije zaslužio visoke ocjene i
visoka mjesta
na godišnjim listama. I nadam se da će tako i biti.
ocjena albuma [1-10]: 9

pedja // 21/12/2017