Da mi je netko rekao da će Jay, Lou i Murph snimiti jednom novi i povratnički album rekao bih mu: "Čovječe, nema šanse". Gledajući ih prošle godine u Beču uživo kako se na stageu uopće ne gledaju i ne komuniciraju još sam se više uvjerio u to. Izašla je čak i kompilacija "Zombie Worm" sa stvarima s prva tri albuma, odn. sa snimkama originalnog line-upa, ali da idu snimati novi album ...ts ts ts.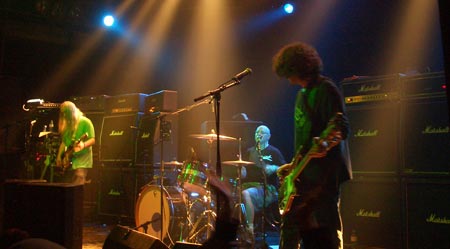 DINOSAUR JR. LIVE, ARENA WIEN 2006 © Pedja
No, čudo se dogodilo i snimili su ga ... I to kakav !!! Kao da nije prošlo dvadeset (!!!) godina. Usuđujem se tvrditi da je "Beyond" bolji od "Bug" a zna se da je "Bug" (a ne "Nevermind") bio album koji je pokrenuo SVE ! Produkcija je možda za "zericu" bolja a stvari su odlične. "Crumble", "Back to Your Heart" i "Been here all the Time" su (po meni) nešto najbolje što se rodilo u Jayovoj i Louovoj glavi. Hvala dragom Bogu da su skupili glave i gurnuli sa strane i Sebadoh i Sentridoh i The Fog jer to ipak nije bilo ono pravo. Kad smo krenuli prošle godine na njihov koncert u sklopu te njihove povratničke turneje dobili smo točno ono što smo i očekivali. Gomilu buke i Dinosaure točno onakve kakve smo zamišljali. Sa "Beyond" dobili smo konačno i njihov pravi četvrti album. Ova tvrdnja možda zvuči malo preokrutno jer je bilo pregenijalnih stvari i na puno slušanima "Green Mind" i "Where you've been" ali nabavite, kupite ili skinite ovo i stavite CD u regal odmah pored albuma Husker Du, Replacements, Lemonheads i Meat Puppets.
ocjena albuma [1-10]: 10

le figuar de kranque // 15/03/2007
PS: Nekako mi je bio cilj u ovom tekstu se očešati i u novi, povratnički i također četvrti album Stoogesa od kojeg sam s obzirom na izjave Steve Albinia očekivao neslućeno, ali ... Dok možemo reći da je za Dinosaur Jr. dobro da je vrijeme stalo prije 20-tak i da je ta međusobna netrpeljivost unijela pozitivnu napetost i iskričavost u album, za Stoogese to, nažalost, ne možemo reći. Vrijeme ih je pregazilo. Stoogesi su bili mladi i ludi. Ovdje čak i Iggyevi tekstovi zvuče nategnuto a Albinijeva produkcija previše želi biti "rawpowerska". A nedostaje i ono najbitnije - dobre stvari. Eto ... DINOSAUR:STOOGES 4-0