Bolji nastavak na novi
album NOUVELLE VAGUE
vjerojatno se i nije mogao dobiti. Naime, bivši pjevač i lider grupe GRANT LEE BUFFALO, za svoj četvrti solo album odabrao je 11 novovalnih klasika koje je potpuno prilagodio svojem americana singer-songwriter izričaju. Tako su Wave of Mutilation (PIXIES), Love My Way (PSYCHEDELIC FURS) ili Boys Don't Cry (THE CURE) usporene su do neprepoznatljivosti, dok su se The Eternal (JOY DIVISION), The Killing Moon (ECHO & THE BUNNYMEN) ili City of Refugee (NICK CAVE) morale malo ubrzati. Zato su So Central Rain (R.E.M.) ili Last night I Dreamt that Somebody Loved Me (THE SMITHS) mogle ostati na otprilike svojoj originalnoj brzini.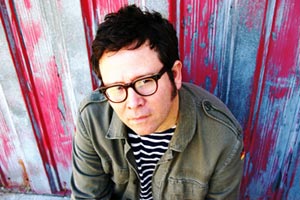 Ogoljele do kraja, odsvirane skoro samo na akustičnoj gitari, bez vriskova i gitara na Wave of Mutilation, bez elektronike i Hookovog basa na Age of Consent ili prepoznatljivih Nick Caveovih ili Robert Smithovih vokala, čine osobnu kompilaciju Grant Lee Phillipsa. Kako su skoro sve ove pjesme u svojim originalnim verzijama postale klasici, trebalo je ponekoj dodati nešto radi atmosfere, stoga su u The Eternal dodane dionice na usnoj harmonici i klaviru radi atmosferičnosti pjesme, dok su u aranžmanima na Last night I Dreamt that Somebody Loved Me dodani gudači instrumenti.
Ovih jedanaest pjesama definitivno nisu kopije originala i kao što je slučaj i kod NOUVELLE VAGUE, njima je udahnut dašak originalnosti te su time dobile novu dimenziju, koju može dati samo netko tko razumije i voli te pjesme.
ocjena albuma [1-10]: 8

pedja // 05/07/2006