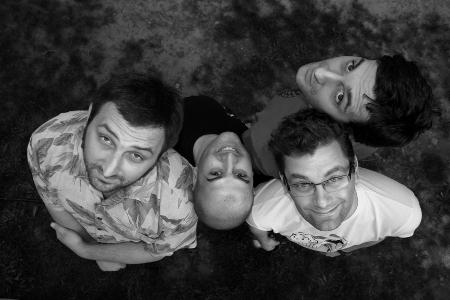 Shoplifters
Da ono najbolje leži iza nas. Da vrijeme neopterećenog plutanja kroz život je prošlo. Da ništa više nije onako jednostavno kao što je nekad bilo, a ljubav ponajmanje. Taj utisak, taj dojam, a možda i kruta činjenica provlači se kroz gotovo cijeli novi album ovih Novosađana. Koji su s ovim definitivno sazreli. I kao ljudi i kao bend.
'People like us/ now older/ making order out of disorder'
- pjevaju oni u "Older", jednom od brojnih vratolomnih pop punk-rock komada, kakvi dominiraju na njihovom novom izdanju. Šest godina unatrag leži izlazak njihovog debitantskog albuma "Technicolor Melodies" (SKC Novi Sad). Između onda i danas pojavili su se s jednim split albumom skupa s beogradskim The Phonerings u 2009. godini i singlicom s američkim White Flag, ali i brojnim nastupima od kojih treba izdvojiti onaj na Exitu te s kanadskim Real Mckenzies. U međuvremenu su promijenili pjevača i od tada su zadnje dvije godine proveli pripremajući ovaj novi materijal s ukupno trinaest pjesama.
Njihov stil vuče korijene iz američkog punk rocka osamdesetih i bendova kao što su The Replacements, Hüsker Dü i sličnih iz tadašnje garniture. S kojima i bivaju uspoređeni kada dođe do toga da im se opiše zvuk. Bilo je to vrijeme kada pop s punk-rockom nije imao tu negativnu konotaciju kakvu će kasnije poprimiti, već je stajao za nešto poletno, svježe i originalno. A pjesme navedenih bendova imale nešto od partya na kojem se više popilo nego što je trebalo pa riffovi i ritmovi postali puno kaotičniji, izravniji i provizorniji. Ma koliko god tematike ovih pjesama bile ozbiljne i realistične, Shoplifters su u muzičkom smislu sačuvali taj nemarni, mladalački i divlji spirit iz spomenute epohe. Pjesme im pršte živahnim i podižućim melodijama, koje tekstove poput
'I've been battling depression/ and chain-smoking for days/ with no better cure than alcohol/ to scare the time away'
("Shut Up") prikazuju u jednom sasvim pozitivnom kontekstu. Kao nešto što će jednom proći, kako to kažu u jednoj drugoj pjesmi:
'But someday soon the storm is bound to end/ and clear blue sky alone is worth living'
.
U brojevima poput "She's My Diary" ili "We've Got A Groovy Thing Goin'" ovi Novosađani se usviravaju u najvišu formu prezentirajući svoj bujni, zabavni i bučni punk rock. Tek mjestimično kao u "Aftermath" s finim puhačkim uplivom ili "Even Odds" usporavaju brzinu, ali je akcent u ovom albumu postavljen jasno na intenzivnim i furioznim komadima, odsviranim na dušak i s puno nepatvorene energije. Gdje nema mjesta za gubljenje vremena, za lamentiranje ili patos, već tipa - ok, tu smo rekli sve što smo htjeli, idemo odmah dalje. Koncizno, sažeto i direktno u facu. Iako je trinaest pjesama možda malo previše, budući da su se ovdje striktno pridržavali uglavnom jednog kalupa, album "A Fresh Start" je izuzetno tečan i slušljiv, što nije mala stvar za jedan stil za kojeg smo mislili da je tu već sve rečeno.
ocjena albuma [1-10]: 7

z. marković // 19/12/2013