Bend iz L.A. koji je prije par godina
gostovao u KSETu
i na većinu u publici ostavio dubok dojam iskrenosti i dobrote nedavno je objavio treći album "Push the Heart", a njihova pjevačica Sara bila je dovoljno ljubazna i poslala ga na moju adresu.
Eto što sve neće učiniti bend iz L.A. samo da ga se spomene na nekoj web stranici u Hrvatskoj. Da li bi tako nešto palo napamet i domaćim bendovima i izdavačima?! Ko zna!? No, to je druga priča.
Vratimo se ne "Push the Heart", koji je odmah na prvi dojam hermetičniji, osobniji i ogoljeniji od prethodnika "The Stars at Saint Andrea". Prethodnik je obilovao kompjutersko-elektronskim pomagalima i više je mirisao na trip-hop područje. Sve to je na ovom albumu svedeno na minimum, ostali su samo živi instrumenti i živi ljudi. Stoga, iako su textovi iste problematike (3L - love, lies, loss), ovdje zvuče mnogo tužnije i intimnije. Na taj način cijeli album dobiva neki sporiji ritam.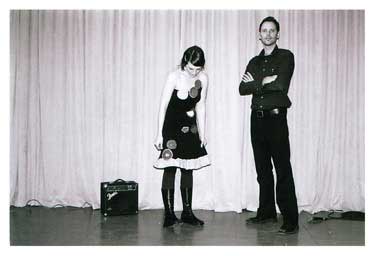 sara & dustin © simon (www.simon171.com)
Sarin glas, na ovaj se način približava ogoljelom glasu Kristin Hersh (Distant Radio) ili pak punoći prekrasnog glasa Tanye Donelly (Just One Breath) (pa skoro da imamo i THROWING MUSES). Kako je Dustin O'Halloran, uz Saru, jedina konstanta i supisac, u grupi DEVICS, on se pojavljuje i kao vokal na pjesmama Song for a Sleeping Girl i If We Cannot See. Na ovoj posljednjoj dali su si malo oduška, ukopčali gitare u pojačala i odlebdjeli u post-rock maniri daleko, daleko, daleko…
Ovaj album ne prihvaća se na prvu loptu, kao prethodnik, no sa svakim novim slušanjem otkriva se nešto lijepo, toplo, osobno, tužno…
ocjena albuma [1-10]: 9

pedja // 17/03/2006