5 ljudi, 2 vokala (ženski, muški), 5 gitara, 14 komada gitarskih efekata, 1 bas, 1 kontrabas, bubnjevi, 3 sinta, megafon, ksilofon i 2 defa... To je otprilike oprema kojom se koriste DEVICS na svojim koncertima.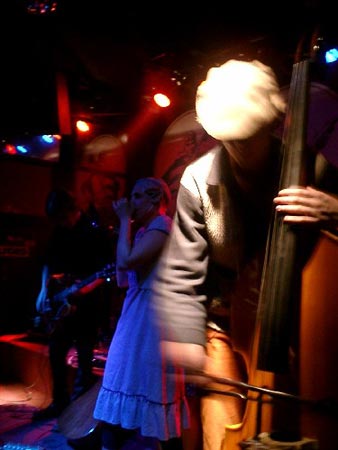 Devics © pedja
Počeli su pomalo neočekivano, s "Red Morning", prvim singlom s novog albuma, a uslijedili su "My True Love", "Don't Take It Away" i "Safer Shores", na kojoj je vokal, umjesto Sare preuzeo Dustin. Tada su promijenili mjesta i instrumente, gitarista je sjeo za klavijature, klavijaturista je stao za kontrabas, basista je u ruke uzeo gitaru i od tog trenutka više ništa nije bilo isto.
Krenuo sam na put čarobnim svijetom muzike. Uz "Beautiful Sinking Ship" bio sam gusar na brodu koji tone velikom brzinom, uz "In Your Room" jahao sam na već skoro krepanom konju po užegloj pustinji čekajući neku oazu, "Alone With You" asocirala me opet na neke stare ljubavi. Onda sam u jednom trenutku bio u zadimljenom njujorškom jazz klubu, pa u pariškom kabareu. To me toliko zanijelo da sam skoro zakasnio na pravi rock koncert, da bi na kraju završio uz večer klasične glazbe.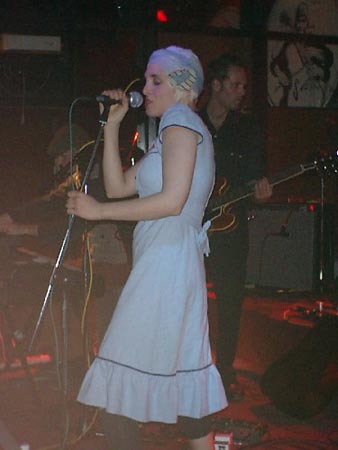 Devics © pedja
I to nije sve, bilo je i bisa, i poslije razgovor s članovima benda, autogrami, slikanje i onda uz smješak na licu i novi album "The Stars at Saint Andrea" u plejeru, polako na spavanje.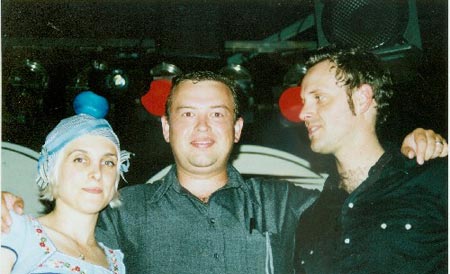 Devics & pedja © nepoznat
pedja // 13/05/2003

> vidi sve fotke // see all photos