Sa 9 novih autorskih skladbi i povratnikom, bubnjarom Gene Hoglanom koji im je lupao još 1997. na albumu ''Demonic'', jedne od najvećih legendi klasičnog američkog thrasha su se potpuno vratile u igru.
Odlazak bubnjara Paul Bostapha nakon ponovnog okupljanja za prethodni album "The Formation Of Damnation" (2008) koji je prekinuo gotovo 10 godina dugačku diskografsku pauzu činio se da će ozbiljno narušiti homogenost u ekipi benda. No, zamjena sa Hoglanom ne samo da je čista personalna promjena 'koga nema bez njega se može', već je i obilata nadoknada za sve fanove željne prave klasike. Hoglan je ubrizgao prijeko potrebni duh starine thrasha kojeg Bostaph očito nije najspretnije realizirao sa suviše modernim elementima, pa tako ovaj album zvuči moćno i razarajuće poput njihovih najznamenitijih radova s konca 80-ih i početka 90-ih.
A o kompaktnoj svirci benda nije potrebno posebno govoriti; ovdje sve frca sa konciznim, bogatim i vješto osmišljenim suzvučjem u korist kompozicija koje pokazuju da se ne radi samo o zbirci pjesama, već o cjelovitom albumu koji sistematski teče bez ikakvih teškoća od početka do kraja. Isprekidan tek sa dvije laganije teme, naslovnom ''Dark roots of earth'' u umjerenom tempu i baladom ''Cold embrace'' s akustičnim tretmanima koja iznosi gotovo punih 8 minuta, sav ovaj materijal osim što je nošen velikom kinetičkom energijom, ima i širinu pjesama koje nisu striktno vezane uz sam pojam žanra. Odstupanja ima u aranžmanskim dosjetkama s kojima nadograđuju stilske figure (primjerice u ''Last stand independence''), no ono što će svakoga zaintrigirati na prvu loptu su žestoke pjesme ''Rise up'' (koja u refrenu 'when I say rise up/ you say war' previše sugerira na ''Am I evil'' Metallice), ''Native blood'', ''True american hate'', ''A day in the death'' i ''Man kills mankind''.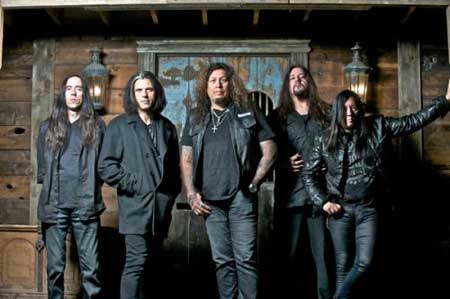 Frontmen Chuck Billy i dalje ima upečatljiv vokal koji se ovaj puta vratio zajedno s bendom u stare dane s tek ponekom dozom nostalgije, ali evidentno je da su svi skupa uložili mnogo kreativnog truda zakoračivši u stvaranje jakog kredita za budućnost. Odnosno, veoma jasno se primijeti njihova nova komercijalna shema u kojoj ništa nisu osakatili kvalitetu pjesama. Različite su sa svim zaštitnim karakteristikama benda sa bombastičnim riffovima, dualnim gitarskim harmonijama Alex Skolnicka i Erica Petersona (i nekoliko zavodljivih catchy solaža smještenim na ukusno odabranim pozicijama), dovoljno snažnom energijom i agresivnošću, te su im dodali i ponešto suvremene arome 21. stoljeća. Ovakav povratak je jedan od onih uistinu rijetkih velikih comebackova kad se samo promotri kako se recimo Metallica praćka vračajući se i posrtajući s pretencioznim pokušajima stvaranja nečeg grandioznog. Toga ovdje nema, već samo prave i idealno izabrane snage klasičnog thrasha. Onakvog kakav i treba biti.
A kao bonus skladbe, ovdje su uvrštene i tri vrlo dobre obrade Queen (''Dragon attack''), Scorpions (''Animal magnetism'') i Iron Maiden (''Powerslave'') što je više nego očiti dokaz kako i kuda, te na što Testament cilja s ovim drugim povratničkim albumom.
ocjena albuma [1-10]: 8

horvi // 02/09/2012