Ljeto se pravi da je sve u redu i maltretira nas svojim vrućinama. U biti, ljeto je jedino u redu ove godine.
Krenuo je vlak iz Zagreba....
Volim putovati vlakom jer me tjera na razmišljanje o stvarima za koje u svakodnevnom životu nemam vremena. Volim razmišljati o nebitnim stvarima. Zapravo, jednostavno volim razmišljati o glupostima.
Zaista! Zašto se sve pojave u društvu događaju iz mračnih razloga? Zašto nijedna revolucija nije pokrenuta zbog toga što su se tek tako sreli neki sretni i nasmijani ljudi koju su odlučili ostvariti svoje želje kako bi im bilo bolje i kako bi razveselili svijet? Zašto nam je od Aristotela ostala samo prva knjiga koja govori o tragediji? Zašto je on odgojio Aleksandra Makedonskog, velikog vojskovođu i boga nesreće, a ne prvog antičkog komičara? Zašto izumiru cirkusi i zabavni parkovi, a opstaju arene, topovi i mačevi? Zašto se festivali odvijaju u tvrđavama i zašto je baš Motörhead na proslavi svog četrdesetog rođendana odlučio ugostiti tisuće ljudi u jednoj takvoj? Eh, zašto...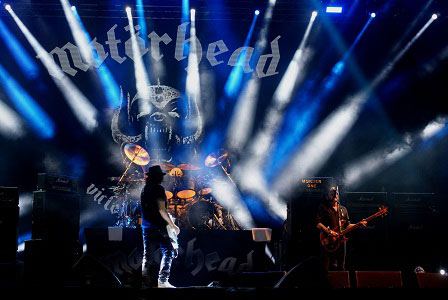 MÖTORHEAD © veda
Stigli smo točno na vrijeme kad je s glavne pozornice gospodin Kilmister doviknuo - We are Motörhead and we play rock & roll - pa kao da ne znamo nastavio:
We are the ones you love, or we're the ones you hate
We are the ones always too early or too late
We are the first and we just still might be the last
We are Motorhead - born to kick your ass...
Stvarno, dugo je prošlo od našeg posljednjeg susreta. No, sjećanja još uvijek nisu izblijedjela zato što svi mi imamo pjesme koje nas podjećaju na posebno lijepa životna razdoblja ili situacije.
Hey babe don't turn away
I'm here tomorrow I'm gone today...
Premda je teško vjerovati kako pjesme mogu nekoga ili nešto promijeniti uzbudljiv je trenutak kada shvatiš kako one mogu u tebi trajati dugo nakon što se otpjevaju.
So you see, the only proof,
Of what you are is in the way you see the truth,
Don't be scared, live to win,
Although they're always gonna tell you it's a sin,
In the end, you're on your own,
And there is no-one that can stop you being alone...
Neke pjesme koje volim su kao putokazi - gdje god da se izgubim, samo potražim njih i one me uvijek upute u pravom smjeru.
Metropolis, the worlds collide,
Ain't nobody could be on your side,
I don't care, I don't care...
I uvijek ih isto čitam. I uvijek me vrate na isti put, na istu misao.
Please tell me kind, I'm out of my mind
And I'm telling you
It's not that I'm bad, I'm totally mad
Druge pjesme su kao proročanstva. Mijenjaju se u zavisnosti od okolnosti. I mijenjaju mene u isti mah.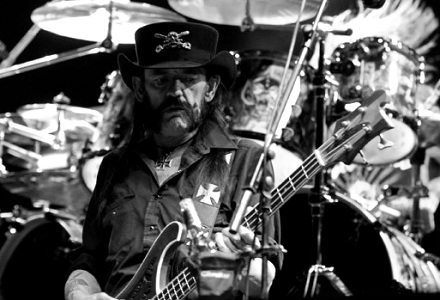 MÖTORHEAD © veda
You know I'm bad, the times I've had,
I've got a bad reputation,
I don't care, I get my share,
Don't feel no deprivation,
The more I get the better it is,
I like it fine, like a little whizz,
Treat 'em like ladies, that's a fact,
You know The Chase Is Better Than The Catch...
Jedne nisu bolje od drugih. Važna je ravnoteža. Svatko treba imati pjesme koje mu govore i koje ga propituju. Važan je dijalog iznutra.
Rock 'n' roll, save your soul
And I got it
Give it to me, loud and free
Don't knock it...
I što onda natjera pjesnika da iz čitavog opusa odjednom ponudi neku tešku i tužnu pjesmu? Čisti blues. Kondenzirani mrak. Dakle, stvarno! Što je to? Zašto jedna umjetnost koja pretendira da bude zabavna, kao što je rock & roll, sebi ne dozvoli više izleta u istinsko, humorno veselje?
I think I'm going crazy
Just about to lose my mind
You know my woman left me all alone
Enough to make a man go blind
I've got to shut the door behind me
Go out and buy some highway shoes
'Cause I swear I'm sick and tired
Singing these Lost Woman Blues
Katkad nisam sigurna da su drugi u pravu kakda govorimo o doživljaju umjetničkog djela. Nisam sigurna ni da znam što mi se to točno sviđa, ali...
I've got the medicine you need
I've got the power, I've got the speed
I'll find out how to stop your clock
We sure ain't talking Doctor Spock
Hear me talking, Doctor Rock...
Možda je baš u tome, što ćemo istu stvar svi doživjeti na svoj način, ustvari, sadržana sva ljepota.
You bastards think it's funny,
Lyin' and thieving all your life,
Think all there is is money,
Got your future strapped up tight,
Just 'cos you got the power,
That don't mean you got the right...
Kakvo god bilo naše poimanje umjetnosti onaj tko ne čita iz očiju, iz ruku, iz tijela, mora čitati neke druge mape.
Wanna watch the movie
Can't sit still
Flying down to Rio
Going to Brazil
Zato umjetnike poput Lemmyja s punim pravom možemo nazvati Roditeljima čovječanstva jer sve ostalo konačno prođe. Glazba ostaje vječno.
If you like to gamble, I tell you I'm your man,
You win some, lose some, all the same to me,
The pleasure is to play, makes no difference what you say,
I don't share your greed, the only card I need is
The ace of spades...
Ono što je nekada strujalo kroz nas postane vjetar koji nas tek ponekad natjera da zažmirimo.
On your feet you feel the beat, it goes straight to your spine
Shake your head, you must be dead if it don't make you fly...
A onda je vlak stigao jedan sat prekasno. Nastupio je trenutak u kojem počneš preispitivati svoju strpljivost. Započela je tiha misa. Svatko na svom kraju klupe odrekao se svega što mu je sveto...
Očito smo se slabo molili. Ili nam jednostavno satovi nisu usklađeni. Možda je to tako trebalo biti.
Na kraju se vlakovi uvijek vraćaju istim tračnicama. Sve je isto. Ista lokomotiva te odvodi i dovodi. Na istom sjedalu iščekuješ i zaboravljaš. Pravac prepoznaješ po štropotanju željeznih kotača. Kad putuješ tamo, vlak je spor. Kad se vraćaš, on je brz.
Polako se sve to preokrene. Odjednom primjetiš kako je lokomotivi trebalo jednako vremena da te odveze na susret s tvojom najvećom ljubavi, kao i da te vrati u vlastiti svijet bez nje.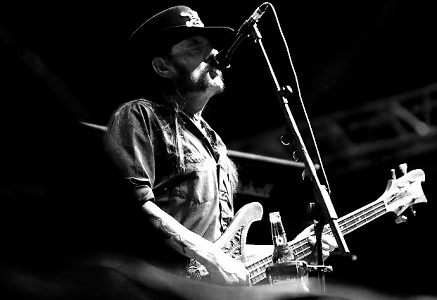 MÖTORHEAD © veda
Anatomija mrtve ljubavi je jednostavna. To je sasušena, samljevena masa osjećaja, trenutaka, glazbe, riječi, suza, prašine i mirisa. Eto, od silne ljubavi već treći dan iskašljavam prašinu. Pa, ako se jednom teško napijem možda ću se s time složiti!
veda // 19/07/2015
PS: Ostatak četverodnevnog iskustva s EXIT festom pročitate kod Hadže, i to redom
Dan 1
,
Dan 2
,
Dan 3
i
Dan 4
.