Although they didn't answer to all our questions, they have
great album
and we love them anyway...
Your sound is very unique in that no two songs sound the same or similar. There is a good mix of different rock genre's in your music. Describe your influences.
It seems that musical genres are generally more trouble than they're worth. We never set out to be a particular kind of rock band, or adhere to a specific sub-category of rock. Everyone comes from very different musical backgrounds, and we all listened to a variety of music growing up, and still do today. They aren't really "influences," per se—just things we enjoy putting on our CD players or iPods—and probably seep into our consciousnesses some way or another, though without any particular agenda. That said, our tastes are all over the map, many of them old—i.e. the Rolling Stones, the Kinks, the Clash, and the Stooges—and semi-old—i.e. Leonard Cohen, the Smiths, the Cure, and Archers of Loaf. Noah, our bassist, also has a degree in upright jazz bass, and Daren, our drummer, is a virtual music encyclopedia, so of course that stuff probably plays a role.
The name of the band comes from the book "White Noise," by Don DeLillo. Why did you choose this name from the book and what does it signify to you as a band and to your music?
In the book, the section titled "The Airborne Toxic Event" tells about a railcar disaster that releases a toxic cloud into the air. The main character, who is so used to these kinds of disasters happening far away and on TV, is forced to deal with this chemical cloud invading his own life. The whole thing is a commentary on mortality and the way in which the media can amplify this fear of death. The military dubs this cloud "the Airborne Toxic Event," and exposure to it could result in death in a few days or in 40 years. Either way, it's a ridiculous dilemma and an absurd way to think about your own mortality. The band was born out of this feeling of being confronted with death and wanting to scream and shout and stomp, and share a real experience with a roomful of people.
Your songs unfold like little short stories. Please describe your writing process and what spawns the ideas behind the songs.
Every song on this album is 100-percent true. The ideas behind each are spawned by true events in Mikel's life, which all the members of the band can attest to, as we were present during the events described by some of the songs, including "Sometime Around Midnight." Mikel has written several short stories, one of which—a portion of a novel, actually—was excerpted for publication by McSweeney's, a very cool literary magazine based in San Francisco. He'll usually lock himself in his apartment, or some location, and emerge days, weeks, or months later, with a bulk of a song and lyrics. "Wishing Well" took him eight months to write, and when he was finally done, he tells us, he thought to himself: "OK, that's what it felt like."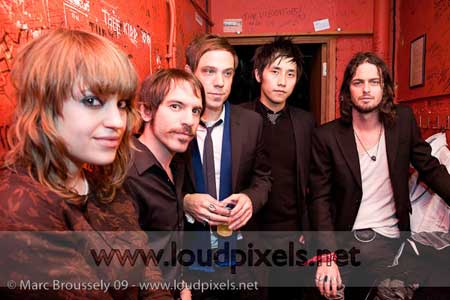 The Airborne Toxic Event
In such a short amount of time the band has received a ton of acclaim around the world. How do you respond to people embracing your music so quickly?
The ethos of the band has always been to work our ass off, stay true to our music, and earn fans honestly. To that end, we figure that the best way to get to know people and for people to get to know us is for us to get in front of them and just play. For the past eight months, we've been racing around the world non-stop to play as many shows as we can, so it's been great to actually see responses firsthand, especially when we return to faraway cities and see familiar faces. We're amazed by and so grateful for the response that we've received, but we also know that we've definitely got a long way to go. There are a lot of cities in the world. We'll probably be touring for a very long time.
From U2 to Kings of Leon to Letterman to Conan O'Brien, many high profile music buffs really love your band. How do you respond to such high praise and acclaim from such important people?
It's extremely flattering, since these are artists and people for whom we have a huge amount of respect. I grew up listening to U2, figuring out how to play some of their songs, and watching Letterman and Conan several nights a week, so the fact that they actually know who we are is a very strange feeling. At the same time, we take everything—praise or criticism—with a grain of salt. People say all kinds of things, and I think it's important never to dwell too much on what's said about the band. But yes, to hear Adam Clayton say that he likes the record is pretty fucking cool.
Last fall you had done "30 Shows in 30 Days," in the UK. Describe that experience.
Well, it was a very interesting experience—playing in a different city in one foreign country every night for a month. The whole thing started with the idea of doing a residency (playing one night a week for a month) in London, and then we thought that it would be such a waste to be in the U.K. for one month and play only four shows. So someone came up with the idea of playing every night of the week, traveling to other cities on non-residency nights… Of course, it was exhausting and we hit a few walls along the way, but it was one of those experiences I'll never forget. We played cities most British bands never play—like Barrow in Furness, Hull, Cornwall, and Stoke on Trent, and the audiences were great. We consider ourselves a live band, first and foremost, so it's important for us to connect with audiences as much as possible, and we definitely feel that sense of community at our U.K. shows now. It's become like a second home for us, and ideally we can keep doing that sort of thing all over Europe, Asia, Latin America, wherever.
Is there any place in particular you would like the band to take you? Whether a particular venue, gig, festival, certain fan or endorsement?
Most of us in the band are fairly well-traveled, but we've never, ever traveled as much as we have since we started touring. We're going to tons of cities we've never been to before, and we consider ourselves extremely lucky to be able to do that as a rock band, and with some of our best friends. Noah likes to say that never in his life did he ever imagine that he would explore so many new cities with the same group of people. Being able to play legendary venues, like Koko or O2 Arena in London, or venues we grew up going to—like the Henry Fonda Theatre in Los Angeles, has been such a great experience. We've seen so many of our favorite bands play these stages. Recently, we played the main stage at Coachella, opening for icons like Morrissey and Paul McCartney. That blew me away. We're all huge fans of them, and of course of the Smiths and the Beatles… That said, there's no particular place I have in mind that I want the band to take me—just that we'd like to play as many shows as possible in as many cities as we can manage.
pedja // 28/04/2009