Novo izdanje Welcome to the DARK SIDE partija koji će se održati u petak 6. prosinca u zagrebačkom kultnom klubu Jabuka posvećeno je legendarnim darkerima The Cure kojima će biti posvećen prvi dio večeri u kojem ćemo dijelu slušat presjek njihove cijele karijere s naglaskom na ranije radove. Da se prisjetimo, The Cure su bend koji potječe iz punk rock scene i pripadaju prvom valu dark pokreta zajedno sa Joy Division, Bauhaus, Killing Joke, The Cult, Siouxsie & The Banshees (u kojima je leader kjurovaca Robert Smith svojevremeno i svirao), a dark pokret je u Hrvatskoj nastao baš u klubu Jabuka gdje je još 1983. godine započela prva dark slušaonica na ovim prostorima pod imenom "Dark Dance", a Tomi Phantasma je naravno bio redoviti gost tih slušaonica.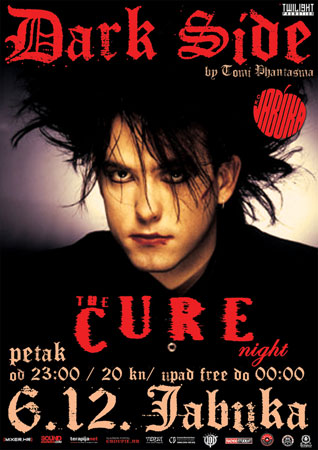 Nakon The Cure bloka će Tomi Phantasma vrtit klasike dark rock, gothic rock, ebm i ostale alter scene s naglaskom na osamdesete jer je tada ta scena bila najjača sa predvodnicima poput Joy Division, Bauhaus, Siouxsie & The Banshees, Killing Joke, Christian Death, Virgin Prunes, David Bowie, The Sisters Of Mercy, Laibach, Mizar, EKV, Front 242, Nitzer Ebb, Die Krupps, DAF, Borghesia, Cabaret Voltaire, Simple Minds, Human League, Ultravox, Ramones, Misfits, Nick Cave, Pixies, The Smiths, Violent Fammes, Clan Of Xymox,....pa sve do novijih darkera poput Marylin Manson, Diva Destruction, Placebo, Mortiis, Rob Zombie, Rammstein, White Lies, Editors,........
Party započinje u 23 sata. OD 23 sata do ponoći je ulaz besplatan do kada traje i happy hour na šanku. Nakon ponoći upad košta 20 kn a cijene na šanku se vračaju na normalu.
Welcome!
promo girl // 02/12/2013