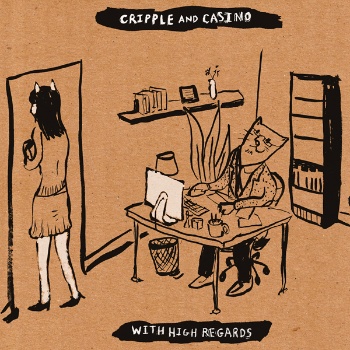 Cripple And Casino - With High Regards
Zagrebački noise/post-punkeri
Cripple And Casino
su u jučer, 12. veljače 2013. izdali svoj novi, drugi album "With High Regards" za nezavisnu izdavačku kuću
Moonlee Records
iz Ljubljane.
I na novom albumu zvuk Cripple and Casino temelji se na bogatom nasljeđu američkog nezavisnog rocka, s utjecajima koji sežu od Sonic Youth i Jawbox do Girls Against Boys i dalje. No, Cripple and Casino nisu kopirali svoje uzore - uspjeli su stvoriti vlastiti zvuk, a "With High Regards" to i dokazuje. Gitare su glasne i disonantne, čvrsta ritam sekcija vodi pjesme naprijed a vokal se kreće u rasponu od tihog govora do vrištanja. Moglo bi se reći da Cripple and Casino podsjećaju i na domaću
Analenu
. Od deset pjesama na albumu, svaka funkcionira kao kratka priča apstraktnog ali konkretnog sadržaja, podcrtanog gitarskom bukom.
Album "With High Regards" izlazi u vinilnom LP formatu, kao plod suradnje Moonlee Records i američke izdavačke kuće
Radio is Down
. Album je dostupan i kao besplatan download sa Moonleejevog Bandcampa, uz
"name-your-price"
opciju za sve prave fanove. Ali, svakako treba napomenuti, da odličan artwork albuma, koga je dizajnirao Tim Harrington iz benda Les Savy Fav, pokazuje svoju pravu snagu upravo na fizičkom izdanju.
Cripple And Casino će održati koncertnu promociju albuma
u Zagrebu 22. veljače u Polukružnoj dvorani Teatra &TD
, gdje će nastupiti zajedno sa Divided Minds i Benchwarmers.
terapija // 13/02/2013