Prošla je godina dana otkad nas je prerano napustio Ivan Trampetić - Shifty/Johnny. Njegova rijetko viđena energija kao frontmena i vokala te iznimna glad za kvalitetnom glazbom nikog nije ostavljala ravnodušnim. U njegovu čast njegov matični bend "Good Day To Die", obitelj i prijatelji organiziraju večer u kojoj se želimo prisjetiti Ivana na način na koji je on najviše volio; kroz jebeno dobru svirku!
Očekuju vas tri odlična benda: Luxus Lord, Stonebride i She Loves Pablo koji su godinama bili usko povezani sa Ivanom preko glazbene suradnje i prijateljstva.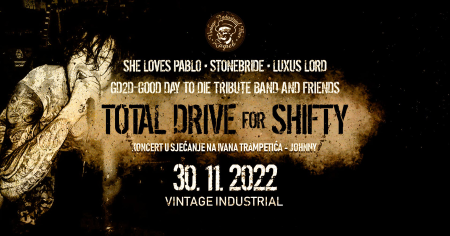 Ovom prigodom, nakon 12 godina od svog zadnjeg službenog nastupa okuplja se Good Day To Die i to u originalnoj postavi: Stjepan Kolobarić (Steps), Stjepan Galić (G) i Dalibor Farčić (Dale). Ali, i u proširenoj verziji sa bivšim članovima te prijateljima glazbenicima iz underground rock metal scene.
Očekuje nas sijaset emocija potkovanih opasnom svirkom: Ivan Eror (Chang Ffos, Pogavranjen), Bojan Kocijan (Cojones), Nikola Babić (Chang Ffos, Plastic Knives), Domagoj Šimek( She Loves Pablo), Siniša Krneta-Krnfa (Stonebride, Bastinado, Ilijini sinovi), Nenad Mandić-Neno (Cojones), Matija Ratko-Rale (Luxus Lord, Gd2d), Marian Grgić (Gd2d), Franko Silić-Frenky (Luxus Lord, Sixes), Nenad Gajić (She Loves Pablo).
"To close the door, Before you open your eye,
To taste the Sun, Before the night comes alive..."
Ivan Trampetić (1979-2021)
Karte: 50/70 kn | Prodaja: DOS (Tratinska 18) / Grif & VIB (Savska 160)
promo guy // 28/11/2022