𝐑𝐞𝐧𝐨𝐦𝐞 je zagrebački band nastao u ožujku 2019. godine. Band je sastavljen od iskusnih glazbenika koji su se cijeli život bavili glazbom. Poveznica banda je ljubav prema glazbi 60-tih godina, što čini i okosnicu njihovog repertoara. Oni su:
Andrea Rakočević - vokal
Ivica Bakula - gitara, vokal
Dinko Lovrinić - gitara, vokal
Kruno Pavlić - klavijature
Damir Martinić - Jerčić - bas gitara, vokal
Mirko Hlupić - bubnjevi, vokal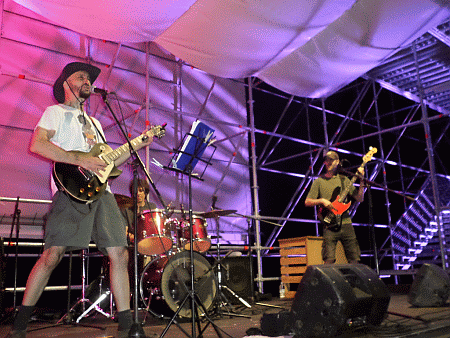 King UBU 8.8.2019., Ljeto na Savi © Horvi
𝐊𝐢𝐧𝐠 𝐔𝐛𝐮 is an alternative-progressive band from Zagreb/Croatia formed in the year 1991.The members are: Saša Špoljar - vocal, guitar (academic musician)/ Petar Aleraj -bass guitar/ Andrej Šarić - drums. He recorded 3 demo albums...2000, 2005 (Zbirka zadataka/Collection of tasks) and the latest in 2016 (produced by Hrvoje Nikšić).The latest album is called '2016'! In the year 2016 he made a video for the song 'Zakon/Law' (youtube/soundcloud). The video was made by the young and talented video artist Petra Nyx from Zagreb. In 2016 them songs 'Polaritet/Polarity' and 'Usud/Fate'(soundcloud) were published on the compilations 'Balkan under radar vol.4' by the label 'Black Planet Records' from Niš/Serbia and '2016 - razni izvođači' by Librarion records/Serbia. Tako stoji u najavi 'certa', ali valja dodati da imaju i friški album "Ono bitno o njima" iz 2019. kojeg su uspješno promovirali u sklopu najčuvenijeg špacirung-spektakla zvanog "Ljeto na Savi" teškog nekoliko milijunčića kunića, a poznati su po tome da široj publici uopće nisu poznati premda im je nekoć davno Hladno Pivo bila predgrupa. Preferiraju sve što vole mladi, znači buku, folklor, hip-hop, turbo melos, cajke, glasanje na svakojakim izborima, prepucavanje po društvenim mrežama, nadmudrivanje, pokazivanje nabildanih tjelesa iz welness centara, skupe marke odjeće i obuće, ali izuzev prvonavedenog, to se ništa ne osjeti u njihovoj glazbi prištekanoj na električnu struju. Dođite i provjerite.
Početak 21.30 h
Upad: možda bez upada (za sad to nezna niti HDZ)
horvi // 06/02/2020