5. i 6. 10. 2018. BEK skvot - ULICA Vladimira Nazora 53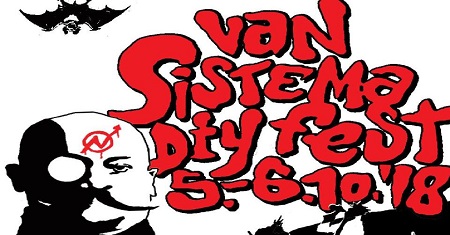 Nova školska godina već je debelo počela i kladimo se da svi već čekaju da što prije završi. Kod nas, u staroj školi, takvih želja nema - samo želja za rastom, stalnim učenjem i novim iskustvima, a sve to van institucija i struktura zlog sistema, samo uz pomoć prijateljica, prijatelja i vlastite dobre volje. Ajde da još jednom čujemo kako se moramo uozbiljiti, skrasiti, zaposliti i kako ovakav život nije održiv i kako se sve mora organizirati u sklopu institucija, NGO-a i ostalih krotitelja DIY kulture. U našoj maloj sekti ne želimo čuti za takve stvari! Zato - 5. i 6. oktobra, radimo feštu u kojoj nećemo samo divljati na gigovima, mada je i to hvalevrijedan angažman, nego ćemo razmijeniti pokoje iskustvo i riječ o fanzinima, skvotiranju, radu s izbjeglicama i uvijek aktualnom seksizmu na pank sceni. Program je sljedeći:
DAN PRVI:
17:00 - razgovor i ugodno zezanje s mladim fanzinašicama i fanzinašima, te predstavljanje ZINZIN projekta/knjižnice u Rijeci + radionica BEK zina na kojoj ćemo dizajnirati predložak/matricu za prvi broj BEKovog fanzina u kojem ćemo pisati šarolike skvoterske tekstove
Od 21:00 - sludgersko pankerska poslastica:
MEDICINE NOOSE (Berlin)
https://medicinenoose.bandcamp.com/
SPEWN (Skopje)
https://spewnmk.bandcamp.com/
LEFT TO STARVE (Karlovac)
https://lefttostarve.bandcamp.com/
DAN DRUGI:
16:00 - naša Petra upoznat će nas kako je to raditi s izbjeglicama i što iziskuje boravak i angažman u izbjegličkim kampovima.
17:30 - Dunja Kučinac predstavit će tekst koji je pisala u sklopu Centra za ženske studije pod nazivom "Feministkinje i laž o velikom pank drugarstvu" u kojem je popratila i analizirala tri prošlogodišnja događaja, odnosno rasprave o seksizmu iz lokalne pank scene. U sklopu predstavljanja otvorit ćemo razgovor na tu vječno aktualnu temu. GRRRR, dođite diskutirati sa zločestim feministkinjama!
19:00 - Kolega u skvotiranju, glazbi, aktivizmu, sceni itd. Damir Batarelo pričat će o skvotiranju u Hrvatskoj i o skvoterskoj sceni, povijesti i kontekstu, a time ćemo otvoriti i okrugli stol na tu temu, pa - skvoteri svih zemalja, ujedinimo se! Svakako dođite da podijelimo iskustva i udarimo temelje skvoterske mreže solidarnosti, ne samo na ovim prostorima, nego i šire.
Od 21:00 - nakon trabunjanja, tamburanje!
BORRACARA (La Plata)
https://borracara.bandcamp.com/
PAKT (Koper/Ljubljana)
https://pakt.bandcamp.com/releases
ESCAFISMO (Rosario)
https://escafismo.bandcamp.com/
HAG (Malmö)
https://hagalicious.bandcamp.com/releases
NAILED IN (Zagreb)
https://nailedin.bandcamp.com/releases
Oba dana bit će veganske hrane, stolnog tenisa, crnih misa, aftera, DIY spike, rituala inicijacije u sektu, distribucija, fanzina, pankera štrebera, neopravdanih časova, popravnih ispita itd. SVE NA DONACIJE!!! (A)
Podržite i dijelite BEKovu crowdfunding kampanju:
https://coopfunding.net/en/campaigns/bek-autonomous-space-for-free-social-and-cultural-activities/
promo guy // 02/10/2018