Ukoliko ste mozda imali prilike cuti genijalni 22-minutnig remix Oasis-ovog posljednjeg hita "Faling Down", The Amorphous Androgynous je londonski dvojac koji se nalazi iza njega. Legenda kaze da je Noel toliko ostao fasciniran njihovim posljednjim albumom da ih je doslovno molio da rasture neku Oasis pjesmu. Naposljetku su oni postali veliki prijatelji i ono sto smo dobili je zaista bilo pravo remek djelo.
Medutim, daleko od toga da je Noel otkrio nesto stvarno novo jer se iza ovoga ludoga imena krije nitko drugi nego electro genijalci Future Sound Of London koji ovaj put rade Future Sounds drugacije vrste.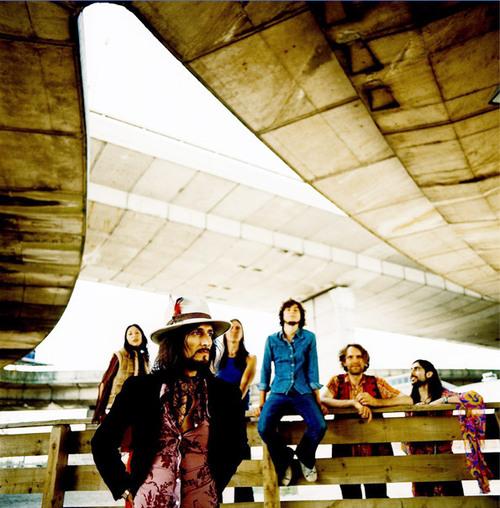 I zaista, The Amorphous Androgynous na svom posljednjem albumu znakovita imena "The Peppermint Tree & The Seeds Of Superconsciousness" proizvode toliko cudnu vrstu glazbe da je ja ni na koji nacin ne uspjevam definirati. Rijec o totalno ludoj psihodeliji za mjesavinom svega i svacega. Jako cudno ali mi se stvarno svida. Najblize nekakvoj normalnosti dolaze u trip hoperskoj "I Have Loved You Into Oblivion" koja zvuci kao nesto za "Dead Cities" albuma od Future Sounds of London i koje predstavlja inovacijski korak u zanru kakvog su svojevremeno znali raditi velikani poput Tricky-ija i Massive Attack. Drugi normalni trenutak je pomalo Pink Floydovska ambijentala u "Light Beyond Sound" al to je to. Ostatak je full attack na mozak.
Sve u svemu, "The Peppermint Tree & The Seeds Of Superconsciousness" je mocan album za slusati nocu ili pak usred suncanog dana pod uvjetom da zeli biti u antifazi sa stvarnoscu...
Nije za svaki dan ali dobro ga je imati u kolekciji!
ocjena albuma [1-10]: 8

kris // 05/08/2009