Evo jos jedan od super bendova koje izdaju nasi prijatelji s But is it Art?. Friday Bridge su, za one koji ne znaju, svedski duo koji radi muziku koja podsjeca na francuski pop 60tih zacinjen sa 80s electropopom a Intricacy je njihov debut.
Da ne bi sve bilo tako jednostavno, Friday Bridge su to zacinili sa hapsikordom i drugim bizarnim instrumentima pa cijela stvar zvuci zadivljujuce svjeze, originalno i zaista funkcionira. Kako bi stvari bile jos bolje, na albumu gostuje Mr Fosca himself, Dickon Edwards a svi znaju kolko mi Foscu obozavamo. Ipak, nazalost Intricacy nije remek djelo kakvo bi mogao biti. Najveci problem lezi u ili u produkciji ili u nekim od instrumenata koje Friday Bridge koriste jer se kroz cijeli album proteze trashi synth koji nakon nekog vremena pocinje malo iritirati.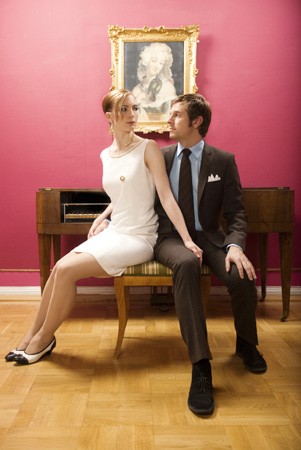 Friday Bridge © © Johan Eklund 2007
Sve je super dok su pjesme genijalne pa je to lako ignorirati - od prvog "Prologue" do sedme "Le Satin S'Emprare De La Mode" nisam to ni skuzio, ali sljedece tri pjeseme albuma od osme "The End of The Affair" pa od "Pidgeon" jedva izdrzim poslusati.
Srecom, na samom kraju se nalaze "It Girl" i "A Comedy" (mozda najbolje pjesme na albumu) koje album zavrse predivno i tjeraju vas na jos jedno slusanje.
U svakom slucaju, Friday Bridge su dobar band koji moze samo postati bolji - pogotovo ako se rijese syntha.
ocjena albuma [1-10]: 7

kris // 02/04/2008