Let's face it, "Thunder, Lightning, Strike" je bio toliko dobar album da što god da Go! Team naprave u budućnosti, teško da će ga ikada nadmaštiti. Da se podsjetimo, prvi album The Go! Team je u 2005-oj bio jedno od najugodnijih glazbenih iznenađenja a ovaj mali bend je zasluženo na račun njega bio nominiran i za prestižni Mercury Prize. The Go! Team su na "Thunder, Lighting, Strike" praktički spojili nekih 50tak različitih glazbenih stilova i napravili prelud i originalan album na koji nitko nije mogao ostati ravnodušan. Sa razlogom je teško bilo zamisliti gdje su uopče mogli dalje krenuti ali dojam da su na dobrom putu davale su informacije da će novi album producirati nitko drugi nego Kevin shields.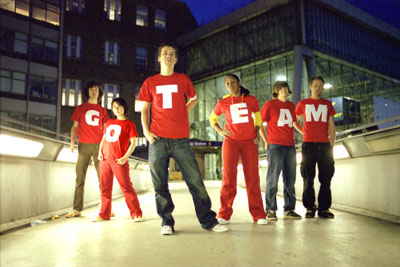 The Go! Team
Ipak, The Go! Team su nažalost ostali na mjestu. Novi album, "The Proof of Youth" je praktički identičan prvom albumu i kada se slušaju jedan za drugim ni ne primjeti se da slušamo dva albuma. Naravno, daleko od toga da je album loš ali nedostaje onaj element iznenađenja koji je "Thunder, Lightning, Strike" imao pa "Proof Of Youth" na trenutne zna biti malo monoton.
Ovako smo dobili album koji je cijelo vrijeme dobar a na trenutke i genijalan (pogotovo u "Fake ID" i "Keys to the city").
Pa zašto tražiti više?
The Go! Team - Grip Like A Vice
ocjena albuma [1-10]: 7

kris // 04/09/2007