Nakon destak burnijih i žestokih godina i 5 isto takvih albuma, prelaskom na 4AD već na prošlom albumu smirili su zvuk i prilagodili ga izdavačkoj kući, dok su to ovim albumom samo utvrdili.
Mješavina eteričnih dream-pop-shoegaze pjesama priziva u svijest najbolje dane 4AD etikete, kad su njom hodali bendovi kao što su COCTEAU TWINS, THIS MORTAL COIL ili LUSH, kojima BLONDE REDHEAD očito mnogo duguju. 23 je nešto vedriji i pitkiji od svojeg prethodnika Misery is a Butterfly i ima više europskog štiha, što je posebno izraženo na Dr. Strangeluv ili Silently koje opasno naginju zvuku ST. ETIENNE-a.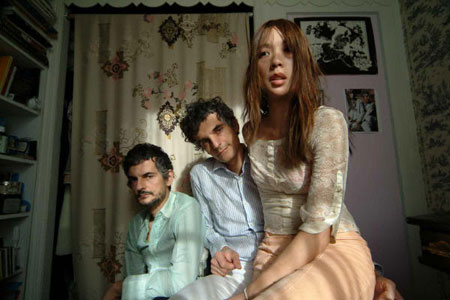 S druge pak strane naslovna 23 i Spring And By Summer Fall, direktne su ode Kevinu Shieldsu i njegovim MY BLOODY VALENTINE, no ona su i jedine u kojima je moguće razaznati gitare. Nešto su mračnije pjesme na kojima Amadeo Pace vodi kroz pjesmu kao glavni vokal (SW, Publisher), dok na The Dress ili Heroine do izražaja dolazi elegantan i lebdeći vokal Kazu Makino.
23 je perfektan pop album za ljetna izležavanja na plaži koji nema izrazitih singlova, uspona ili padova, već djeluje kao cjelina i to mu jako dobro stoji.
ocjena albuma [1-10]: 7

pedja // 27/04/2007