Umjesto da nas legendarni "Van the Man" počasti s novim "best of" izdanjem, isti se odlučio na prilično čudan i samouvjeren potez, a to je objavljivanje njegovih (ili tuđih u njegovoj interpretaciji) pjesama koje su se koristile kao podloge za neke od filmova. No, činjenica je da se skupina pjesama u kojoj su Gloria, Jackie Wilson Said, Moondance, Have I Told You Lately ili Bron Eyed Girl nemože nazvati drugačije nego "best of".
Počevši sa filmom "The Last Waltz" iz 1976. o oproštajnom koncertu grupe The Band, u Scorseseovoj režiji i završivši s prošlogodišnjim filmom istog autora "The Departed", u kojem je zastupljena legendarna obrada Pink Floyd klasika "Comfortably Numb", ova kolekcija daje cjelokupni presjek i sve faze Morrissonovog rada, od one u THEM, preko folk i blues faze, pa laganog jazza, do popularne glazbe novijeg datuma.
Od romantičnih komedija i hororaca, preko ratnih filmova o Vijetnamu do nacionalno obojenih filmova s tematikom borbe iraca za samostalnost ova kolekcija pokazuje da je njegova muzika, muzika za sve prigode i svakakve situacije, a time i za sve generacije slušatelja i gledatelja.
Iako djeluje kao klasični "best of", ovo je puno kompleksnije izdanje, s kakvim bi se malo koji živući izvođač mogao pohvaliti.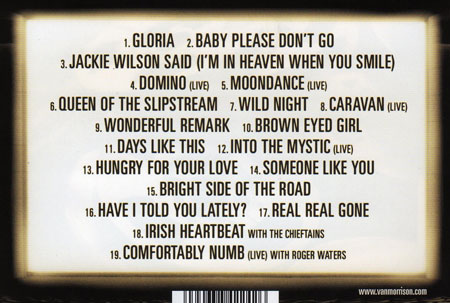 U nastavku slijedi popis pjesama i filmova u kojima se iste pojavljuju:
1. Gloria (THEM) - The Outsiders
2. Baby Please Don't Go (THEM) - Wild At Heart
3. Jackie Wilson Said (I'm In Heaven When You Smile) - Pope Of Greenwich Village
4. Domino (live) - Clean & Sober
5. Moondance - An American Werewolf In London
6. Queen Of The Slipstream - Extreme Close-Up
7. Wild Night - Thelma & Louise
8. Caravan (live) - The Last Waltz
9. Wonderful Remark - King Of Comedy
10. Brown Eyed Girl - Born On The 4th Of July
11. Days Like This - As Good As It Gets
12. Into The Mystic (live) - Patch Adams
13. Hungry For Your Love - An Officer And A Gentleman
14. Someone Like You - French Kiss
15. Bright Side Of The Road - Fever Pitch
16. Have I Told You Lately? - One Fine Day
17. Real Real Gone - Donovan Quick
18. Irish Heartbeat (with CHIEFTAINS) - The Matchmaker
19. Comfortably Numb (live) - The Departed
pedja // 25/03/2007