Svako toliko može se pročitati vijest da je neki član grupe Queens of the Stone Age (misli se tu prvenstveno na Josh Hommea i Nick Oliveria) osnovao neku supergrupu ili "side" projekt. Tako se uz QUOTSA uz njih spominju imena Kyuss, Mondo Generator, Desert Sessions, Brant Bjork te Eagles of Death Metal, "to name but few"… Svi oni dosegli su, barem, kultni status među svojim obožavateljima i to zahvaljujući upravo spomenutom dvojcu.
Jedan od tih bendova, Eagles of Death Metal, osnovao je spomenuti Homme sa frendom iz djetinjstva Jesse Hughesom. Iako "osnovani" krajem devedesetih na jednom od legendarnim Desert Sessiona, bili su na ledu sve do 2003, kad su uz pomoć Timmy "Tipover" VanHammela u tri dana snimili debi album "Peace, Love & Death Metal", koji je prštao energijom i dobrom zajebancijom a sve je to bilo dobro začinjeno klasičnim r'n'r rifovima. To je dovelo do toga da su klasik "Stuck in the Middle with You" nazvali "Stuck in the Metal".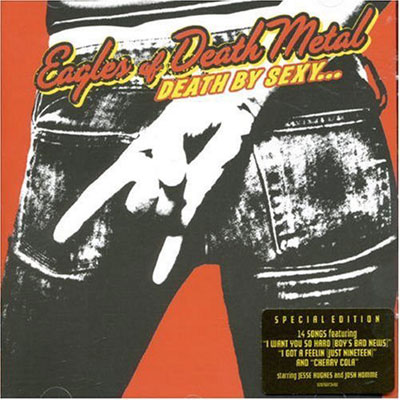 Zbog obveza s matičnim bendom, na drugi album EODM se čekalo skoro tri godine, a kad je "Death By Sexy" ugledao police dućana i servise za skidanje s interneta, nije se moglo nego zaključiti da su EODM odrasli i sazreli u prvorazredni r'n'r bend s velikom dozom humora i energije u svojim pjesmama.
Prve tri pjesme (I Want You So Hard, I Got a Feelin' (Just 19) i Cherry Cola) ostavljaju bez daha i doslovno i literarno. Dok svojim brzim i čvrstim rokenrol ritmom tjeraju noge na gibanje, svojim textovima tjeraju smješak na lice, barem onom dijelu populacije, kojem su i namijenjene. Tako Jesse (ovajput) "Boots Electric" u Cherry Cola kaže "I can be your daddy, be your rock n' rolla' And you can be my sugar, be my cherry cola Got some needs yeah, I need to shake it", u skoro pa legalnoj I Got a Feelin' (Just 19) pjeva "I touch you there Because I know the spot You know I'm everything That he's just not" dok u prvom singlu I Want You So Hard objašnjava "Trust your instincts and let me in Just be my ride and I'll be my friend" dok Josh (ovajput) "Baby Duck" lupa po bubnjevima nesmanjenim žarom.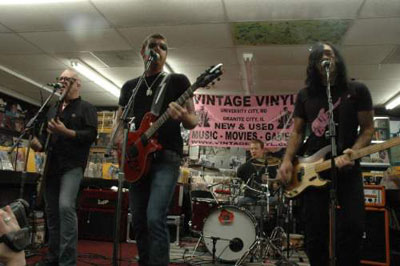 I dok ste nakon predaha uz r'n'b ritam pjesme I Like to Move In the Night te JSBXoidnu Solid Gold, u kojoj Jesse na jon Spencerovom tragu uzvikuje "Sweat" preko nekoliko puta, mislili da je to sve što su EODM mogli pružiti, uskoro Vas iznenađuje žestina u Don't Speak (I Came To Make A BANG) ili svježina Shasta Beast. Za kraj je ostavljena blues zajebancija nazvana Bag O'Miracles.
A ako svemu ovom dodamo listu gostiju koja počinje s Jack Blackom, neizbježnim Mark Laneganom, sveprisutnim Dave Grohlom i majkom Hommeovog djeteta i pjevačicom Distillersa Brody Dalle, ovo je album koji treba slušati i slušati. A na kraju svega, pojaviti se u što većem broju u Tvornici 19/02 i prisustvovati totalnoj zabavi koju nam EODM pripremaju.
ocjena albuma [1-10]: 8

pedja // 05/02/2007
PS: Najbolje pjesme: I Want You So Hard, I Got a Feelin' (Just 19) i Cherry Cola