Dok ih cijela suvremena armada bezgranično poštuje, našim organizatorima su ostali u neugodnom sjećanju otkazanog nastupa i cijelog Moonquake Festivala u zagrebačkoj Močvari 27.IV 2013. zbog neprofesionalnog pristupa samog benda koji nije na vrijeme pribavio potreban ATA carnet jer tada Hrvatska još nije bila u EU. S te strane benavo je uzeti za ozbiljno izjavu Julie Christmas, vokalisticu američkih Made Out Of Babies i Battle Of Mice da su momci istinski profesionalci s kojima je bio užitak surađivati na ovome albumu. Tja... Trićarija i laprdanje s dodvoravanjem...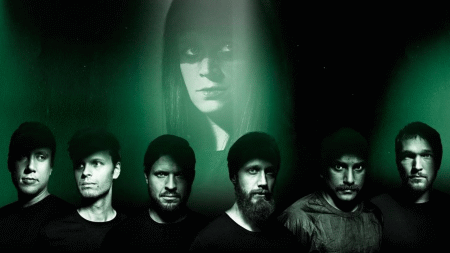 Julie, koja je svoje umjetničko prezime dobila jer je rođena na Božić, uz rad u spomenutim post-metal bendovima (Battle Of Mice je supergrupa) ima i jedan solo album "The Bad Wife" (2010), a na ovome kolaboracijskom radu je, dakako, vokalistica pokazujući visoke 'clean' soprano dionice u pjesmi "
Chevron
" nalik na Bjork, te growl-krikove u "
The wreck of S.S. Needle
", a bome su se pod očitim njenim utjecajem i gitaristi
Johannes Persson
i
Fredrik Kihlberg
isprobali u 'clean' izdanju u tromoj i najduljoj "
Aproaching transition
" koja je više u letargičnom post-rock nego li post-metal izdanju. Formati i dizajn benda je unatoč njenom glasu s diferencijalnim karakteristikama ostao isti - dugačke pjesme po desetak minuta s laganim uvodima, dinamičkim procesima izgradnje kompozicije i minimalističkim aranžmanima koji put prošaranih elektronskim synth harmonijama što s rada na rad pokazuju sve jednostavnije i jednostavnije obrasce. Spram recimo ujesen 2015. objavljenog "Råångest", split EP-ija s The Old Wind (za Pelagic Records) na kome je vrlo teško zapaziti razliku između ta dva benda, pa i vokalista (tempovi su nešto brži), "Mariner" je praktički nastavak zvuka naslonjenog na prethodni album "Vertikal", ali s drugačijim konceptom inspiriranim eksploatacijom svemira, svemirskim letjelicama i Kubrickovim klasikom "2001: A Space Odyssey".
To sve funkcionira besprijekorno, a da nije bilo one neugodne afere s otkazanim koncertom i moj subjektivni aspekt bio bi sasvim drugačiji. Mnogi su zbog toga odustali, pa i precrtali ove Šveđane sa svojih horizonta...
Naslovi: 1.A greater call, 2.Chevron, 3.The wreck of S.S. Needle, 4.Aproaching transition, 5.Cygnus
ocjena albuma [1-10]: 7

horvi // 24/05/2016