Močvara nam iz Švedske dovodi jedan od najboljih doom / post-metal bendova danas. Dolaze
Cult Of Luna
!
Švedska osmorka dolazi iz grada Umea, koji je iznjedrio i bendove poput Refused i Meshuggah. Svoj epski zvuk temelje uglavnom na doom metalu s puno orkestracija. Pjesme su im često dugačke i spore i pregaze vas do kraja. Ako volite Isis, Neurosis, Pelican i Callisto, Cult Of Luna su nešto za vas.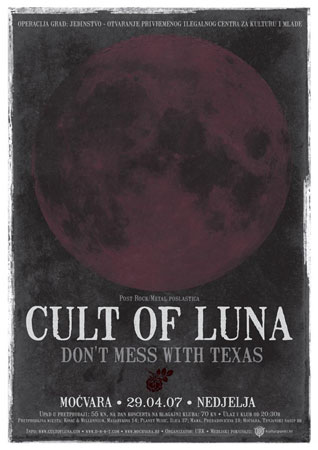 Prije Cult Of Luna će zasvirati domaći post-rockeri Don't Mess With Texas kojima uskoro izlazi novi album.
Upad u pretprodaji je samo 55 kuna (Močvara - Trnjanski nasip bb, Planet Music - Ilica 37, Kovač & Millennium - Masarykova 14, Mama - Preradovićeva 18), a na dan koncerta na blagajni kluba će biti 70 kuna. Močvara se otvara u 20.30h.
ana // 20/04/2007