Danny Rowland i Jen Weidl bili su dečko i cura u Seattle-u kada su, zajedno s Ian Brewerom započeli SEAPONY. To je bilo 2010. Nisu gubili vrijeme, te je njihov prvi singl Dreaming, objavljen vrlo brzo. Rotacije na college radio stanicama i recka u Pitchforku donijeli su im i prvi gig, a za kojeg je "zaposlen", također dugogodišnji prijatelj John Bryan. I bend je rođen.
Ugodan ženski vokal s indie gitarističkim pjesmama kreće se putevima najpoznatijih bendova twee popa kao što su Talulah Gosh, Field Mice ili the Softies s kraja osamdesetih i početka devedesetih. Moram priznati da sam i zaboravio na te bendove i jako jako dugo h nisam slušao, pa su me SEAPONY, ponovo podsjetili na to doba. I Love You More od The Softies, Talulah Gosh istoimenog benda ili So Said Kay EP od Field mice u cjelini, ili pak sve što je dolazilo sa Sarah Records gutao sam i preslušavao do iznemoglosti. Kazete ili moje.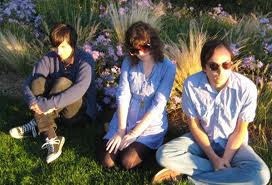 Nekako sam propustio prošlogodišnji debi album "Go With Me" i spomenutu Dreaming, i stvarno bi se loše osjećao da mi je promakao i "Falling". Dreaming je savršenstvo popa u najboljem smislu riječi. Brza i zarazna s ugodnim i maznim vokalom uz koji se morate rastopiti kad Jen zapjeva "Whenever I see you I know my dreams are coming true", iako ste potpuno sigurni da se ne radi o Vama.
Na novom albumu bend zvuči relaksirano i neopterećeno teškoćom drugog albuma, a pjesme jednostavno lebde svojom jačinom i preuzimaju slušateljevu pozornost, bilo da se radi o laganijim pjesmama (Be Alone, Sunlight) ili nešto bržim i glasnijim (Tell Me So i Outside). Na žalost, ni jedna pjesma na albumu nema jačinu njihovog prvog singla, međutim odlično funkcionira kao cjelina.
ocjena albuma [1-10]: 8

pedja // 17/10/2012