Pulski bend Udav čine muzičari koji surađuju s nekolicinom lokalnih sastava poput One Piece Puzzle, Mighty Zazuum i Super Sexy Flesh Eating Zombie Strippers, a oni su Marko Čuljat (gitara), Nenad Črnac (bubnjevi), Darko Rajić (vokal, udaraljke) i Andrej Preveden (bas). Startali su 2008., te su se vrlo brzo nametnuli snažnim i upečatljivim zajedničkim koncertima nastupajući pri tome i sa Deafness by Noise, Kryn, Kuririma, Let 3, Vlada Jankovićem, New Young Pony Club, Vice Squad, The Rock Flock... 2010. godine objavili su svoj prvi "Promo cd" kao trojac (vokal, gitara, bubnjevi), a ovo im je drugo izdanje na kome nastavljaju svoju neobičnu, prilično egzibicijsku noise-rock glazbu.
Snimljen u znanom studiju 'Ja sam gluh' sa čuvenim Juletom (Anti-otpad), Udav nesmiljeno šara kroz 7 lucidnih pjesama koje su izgrađene na različitim principima i obrascima, no u biti, sve su one u domeni stare američke noise škole 80-ih i 90-ih. Zna se - mnogo eksperimenata, slobodnih gitarskih improvizacija, red punk riffova, red jazz elemenata, psihodelije, žestokih tempova koji u najkraćoj "DDT" (0.46) sežu u frenetični death/grind, malo tromog Flipper doom/sludge-punka ("Nowai") i puno apsolutno nerazgovjetnih vokala.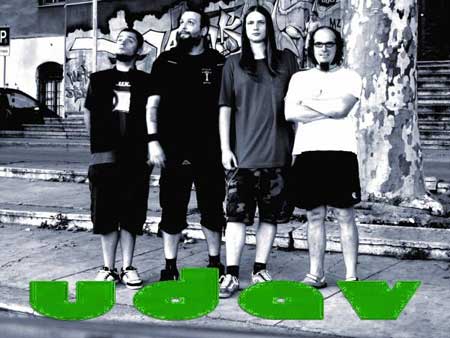 Najvještije eskapade pružaju u završnoj eksperimentalnoj psihodeliji "Cactus frenzy" koja je očito proizašla pod utjecajem Butthole Surfers, de-kompozicijskoj "Yuppie music", hitoidnom post-punku "Prljave ruke" s elementima Minuteman i The Pop Group, te u vrlo sličnoj "Goldie" sa gostujućim psycho vokalom Hame.
Daleko od toga da je njihovo prezentirano ludilo jedinstveno na domaćoj sceni; prije bi se reklo da je zaboravljeno. Prestankom rada SeXe (pa i Mamojebca), gotovo da smo izgubili ekscentrične noisere sklone eksperimentu, kaosu i neredu (sva daljnja scena od konca 90-ih naovamo nije davala ovakve egzibicijske bendove), a osim toga, Udav krasi i neobavezna i neangažirana tematika. Mnogo vokala je tu zbog semantičkih efekata koji ne bombardiraju slušatelja i očito da u ovakvoj prilično nerazumljivoj izvedbi nemaju striktno određenu namjenu osim čistog artističkog poriva.
ocjena albuma [1-10]: 7

horvi // 25/05/2012