Since over 20 years, prog-hardcore innovators Kazuyuki Kishino aka KK Null (lead vocals, guitar, kaosspas), Mitsuru Tabata (guitar) and Tatsuya Yoshida (drums, vocals, kaosspad) have been pioneers in their field. Zeni Geva's sound embraces Japanese culture while drawing from global influences as well. Steve Albini rates
Zeni Geva
as one of his favourite bands and has also produced 5 of their albums.
After excellent last year's concert
, Zeni Geva are coming back to Zagreb for the third time, to promote their
new album ''Alive and Rising''
. We took this opportunity to ask Kazuyuki Kishino a few questions...
Could you explain the meaning of Zeni Geva and reasons for taking that name?
ZENI means "money" in old Japanese term, and GEVA is taken from GEWALD (German) which means violence or strife.
In the late 60's - early 70's there's MANGA titled ZENI GEBA which describes the very dark side of humanity, the story is about the man who kills anybody for money. Actually I took ZENI GEVA after this manga and just changed one letter B to Z, as it looks cooler.
Previous to the tour last year, Zeni Geva was not active for a few years. How did the tour go and what are your expectations for this one?
The tour in last April went very well and we'd like to keep things going and hope things get better and better.
Your last tour was with Austrian band Jakuzi's Attempt .Why the same combination this time?
Because they are very nice people and kindly support us by sharing their backline. It's comfortable and enjoyable to tour with them in a same van.
And also the tour manager from Wireglobe booking is a super cool and reliable person. So, we'd like to tour with them again.
Your last show in Zagreb (Croatia) was a year ago. This year Zagreb is again on your list of tour dates. Did you like it here so much that you wanted to come back or we just have good booking agents?
For these both reasons.
Zeni Geva changed a number of drummers during the years. Why were drummers the most unstable part of the band?
I don't know....it's not a musical reason, it's more personal issues.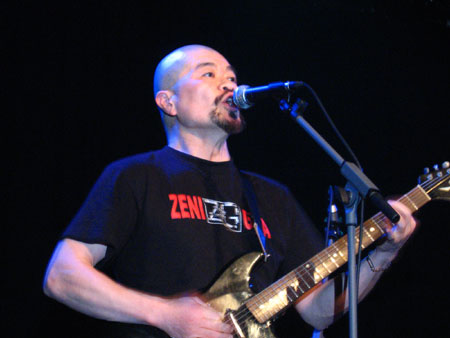 Kazuyuki Kishino (KK NULL) @ Teatar &TD, 10.04.2009. Zagreb © ana
Tatsuya Yoshida has returned to Zeni Geva after 20 years. How did this 'reunion' happen and how has it affected the band?
After the 20 year experience with other drummers, I realized that Tatsuya Yoshida could be the best and only one drummer for ZENI GEVA, so I contacted him and he said OK!! And I was RIGHT. He brought a lot of energy and new approach to the band and so that makes us to play with really fresh excitement.
Word 'samurai' is often used when trying to describe Zeni Geva's sound. How do you comment on this?
Maybe it's a bit silly and funny description though, I like it. I guess some people take it a joke but also some take it serious.
Steve Albini stated he is a big fan of your work. He engineered several of your albums and was a guest on a few of them. How did this collaboration start?
In the early 1990's there was an American guy lived in Osaka, Japan and he had his label called Public Bath and he wanted Steve Albini to record ZENI GEVA, that's how it started.
You have a new album out ''Alive and Rising''. Could you tell us sometning more about it?
It was recorded live @ Taku Taku, Kyoto, Japan on 09 September 2009 and Hellva Lounge, Kobe, Japan on 10 September 2009, and edited, mixed and mastered by Tatsuya Yoshida. 13 songs from previous albums such as "Freedom Bondage", "Desire For Agony", "10,000 Light Years" but of course they are not the same. Yoshida and I play also kaosspad & kaossilator to add some electronic noise elements on the sound and Yoshida does chorus and vocalization as well.
What kind of music do you listen to these days?
Personally, I like listening to Yes, King Crimson, Area, Miles Davis, Nico, Julie London, Bernard Parmegiani........and KK NULL :-)
Who would you say is your all time favorite musician/band?
Same as listed above.
Was there a defining moment in your life when you've realized you wanted to become a musician, to have a band?
The Pink Floyd "The Wall" show in London 1980 and the Fred Frith first live gig in Tokyo in 1982 changed my life.
What can we expect from Zeni Geva in the future?
Who knows?! Anyway, we're trying to compose new songs and make a new studio album in a near future.
Any final message to your audience in Zagreb?
Please come to our concert and have a good time. Thank you very much.
ana // 29/03/2010