Najdugovječniji, najmračniji, najbolji i najveći alter party u Hrvata, a i šire, Twilight Party, nakon ljetne pauze ponovo će se održati u centru alternativne, zagrebačkom klubu Močvara. Tema ovog partya će biti londonska alter rock atrakcija Placebo, pa će tako biti projekcija spotova i live snimaka, kao i presjek audio radova grupe. Nakon toga će vas Tomi Phantasma provest kroz audio video twilight putovanje i vrtiti mračne hitove od old school gothica i darkwavea, preko old school ebma i industriala do gothic metala i punk rocka. Znači od Bauhausa, Joy Division, The Cure, Depeche Mode, The Sisters Of Mercy, Fields Of The Nephilim, Mizara, preko DAF, Laibach, Borghesie, Nitzer Ebb, Front 242, Die Krupps, Ministry, NIN, do Clan Of Xymox, Moertiis, The 69 Eyes, London After Midnight, Misfits, Ramones, Rammstein, Marylin Manson, Rob Zombie, Cradle Of Filth, pa sve do Editors, Covenant, Placebo, ....znači za sve mračnjake i ljubitelje mračnog i alter zvuka po nešto.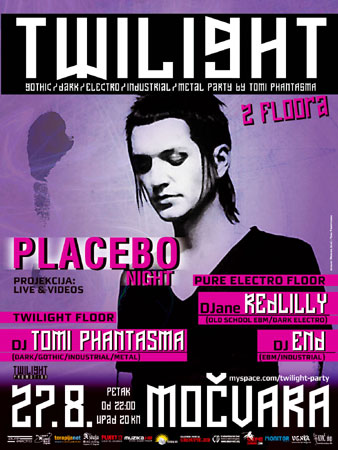 Na Pure Electro Flooru će vrtiti djica RedLilly i dj End electro pržionu od old school ebma, prek dark electra do futurepopa, znaći Aesthetic Perfection, Agonoize, Amduscia, And One, Angelspit, Apoptygma Berzerk, Blutengel, Combichrist, Covenant, Diorama, In Strict Confidence, Namnambulu, Suicide Commando, Wumpscut, X-rx, Angels on Acid, Assemblage 23, Code 64, ESC, Funker Vogt, Icon of Coil, Imperative Reaction, Lola Angst, Ashbury Heights, Mesmers eyes, Modulate, Noisuf-X, Skinny Puppy, Nitzer Ebb,....
Neobavazan, ali poželjan dress code: gothic, fetish, leather, punk, metal, cyber, dark, s/m, pin up ...
Početak: 22:00
Upad: 20 KN, s pozivnicom do 00:00 besplatan
promo girl // 23/08/2010