U četvrtak 30. travnja u zagrebačkom klubu Jabuka sa početkom u 22 sata održati će se još jedan u nizu Twilight partija, najdugovječnijeg i najznačajnijeg alternativnog partija na ovom prostorima. Ovoga puta ćemo za početak moći vidjeti video zapis sjajnog live nastupa još sjajnije industrial grupe Nine Inch Nails "Beside You In Time" a kasnije cijelu retrospektivu alter glazbe od naranijih dark i goth zvukova Bauhaus, Simple Minds, Red Lorry Yellow Lorry, Specimen, Marc Violets, Joy Division, Virgin Prunes, Christian Death, The Cure, Mizar,
Moramo napomenuti da je idući dan neradni dan pa će ovo sigurno biti prilika za izlazak svim onima kojima inače četvrtak ne odgovara zbog toga jer je idući dan radni dan, tako da očekujemo vrhunsku zabavu sve do 04:00.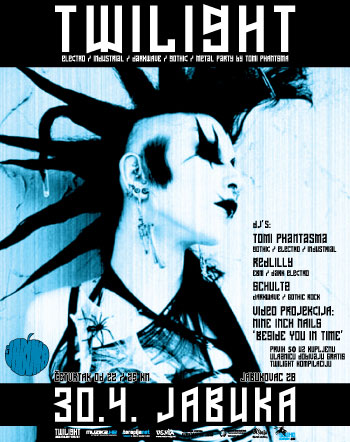 Dj's:
Tomi Phantasma (gothic - industrial ) The Sisters Of Mercy, Alien Sex Fiend, Gary Numan, Fields Of The Nephilim,….. pa peko ebm scene DAF, Front 242, Nitzer Ebb, Skinny Puppy, Die Krupps, Borghesia, The Cramps, Cassandra Complex,….do industriala sa Eisturzende Neubauten, Nine Inch Nails, Ministry, Laibach, ….do novijeg zvuka London After Midnight, Covenant, Apoptygma Berzerk, Oomph!, Gothminister, Hocico, Diary Of Dreams, Deathstars, And One, Marylin Manson, Rammstein, Mortiis, The 69 Eyes, Placebo, Clan Of Xymox, Rosetta Stone, Thetrae Des Vampires, Tiamat, Type O Negative, Paradise Lost, Moonspell, Misfits,…………
Redlilly (ebm - dark electro)
Schultz (darkwave / gothic rock)
No dress code!
Početak u 22:00, cijena ulaznice 25 kn
promo guy // 23/04/2009