Zbog velikog interesa publike se ljetna shema 80's Partya u zagrebačkom klubu Boogaloo produžila svake subote kroz cijeli rujan, pa ćete tako moći uživati u zvukovima i slici osamdesetih i ove subote.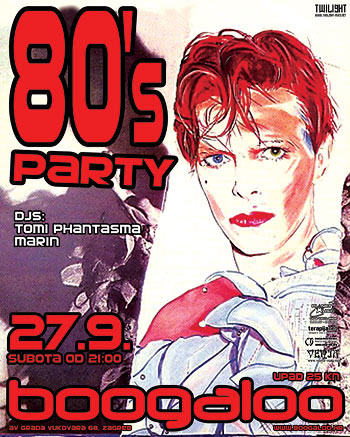 Na programu će biti "The Best Of 80's" gdje će rezident dji Tomi Phantasma i Marin vrtit spotove i puštat najbolju glazbu iz osamdesetih, znaći sinthy pop, pop, new wave, electro, ebm, darkwave, gothic rock, punk rock tj. Depeche Mode, New Order, Yazoo, Dead Or Alive, Eurythmics, Tears For Fears, Alphavile, A-Ha, Madonna, Kim Wilde, Cindy Louper, Denis & Denis, Pet Shop Boys, Video Sex, Ultravox, Soft Cell, Adam & The Ants, DAF, Front 242, Nietzer Ebb, Billy Idol, U2, Simple Minds, David Bowie, PIL, The Smiths, Pixies, Talking Heads, The Police, Nick Cave, Siouxsie, Joy Division, Bauhaus, Killing Joke, The Cure, The Sisters Of Mercy, The Cult, EKV, Blondie, Madness, Iggy Pop, Buzzcocks, The Clash, Ramones, Alice Cooper, Van Halen, Beastie Boys,………
Ulaz: 25 Kn
Početak u 21:00 sat.
Dobrodošli!
promo guy // 24/09/2008