80'S PARTY by Tomi Phantasma
DAVID BOWIE night
Petak 08.04.2016. od 22:00
Boogaloo Vlub, Ulica grada Vukovara 68, Zagreb
0/20 kn
Nakon vrlo uspješnog otvorenja nove sezone 80's Partya u zagrebačkom Boogaloo Clubu, u petak 8. travnja nastavljamo s večeri posvećenoj jednom od najvećih glazbenika, legendarnom Davidu Bowieu. Nakon promocije novog albuma "Blackstar" u zarebačkoj Jabuci 15. siječnja, koja se na našu veliku žalost poklopila i s oproštajem ovog velikana, smo primjetili da nije bilo osim toga niti jedan party posvećen Davidu Bowieu, pa želimo ispraviti tu grešku i ponovno se prisjetiti njega i njegovog šarenog glazbenog opusa. Tako će na repertoaru biti audio i video presjek Bowieove karijere, ovoga puta u malo veselijem stilu nego u Jabuci, pa će na repertoaru biti svi njegovi hitovi od početka karijere do posljednjeg albuma tj. Space Oddity, Changes, Sound & Vision, Ziggy Sturdust, Fame, Young Americans, Heroes, Boys Keep Swinging, DJ, Let's Dance, Modern Lovers, Absolute Beginners, Under The Presure, Filthy Heart Lesson, I'm Afraid Of Americans, Ashes To Ashes, Scary Monsters, Wild Is The Wind, Fashion, The Jean Genie, Rebel, Rebel, John, I'm Only Dancing, China Girl, The Man Who Sold The World, Golden Years, Starmen, Velvet Goldmine, Suffragette City, Five Years, Life On Mars?, The Next Day, The Stars (Are Out Tonight)...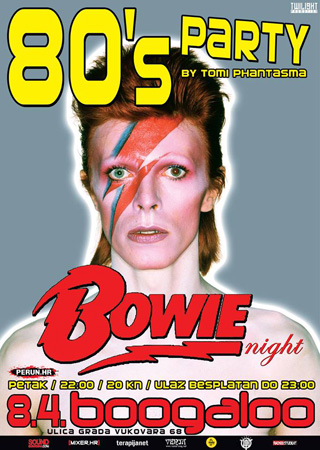 Nakon seta Davida Bowiea koji će trajat do 01 sat će slijediti Best of 80's by Tomi Phnatasma tj. hitovi grupa poput Depeche Mode, Simple Minds, New Order, David Bowie, A-ha, Alphaville, Soft Cell, Eurythmics, Dead Or Alive, Yazoo, Madonna, Pet Shop Boys, Ultravox, OMD, Tears For Fears, Kim Wilde, INXS, Midnight Oil, The Cure, Duran Duran, Video Sex, Denis & Denis, The Police, Xenia, Film, The Smiths, The Stranglers, Bronski Beat, Talking Heads, ABC, Blondie, Billy Idol, Haustor, Gang Of Four, EKV, Iggy Pop, Visage, The Sisters Of Mercy, Joy Division, A Flock Of Seagulls, U2, Queen, Grace Jones...
Večer će započeti u 22 sata, ulaz je besplatan do 23 sata kada će se počet naplaćivat ulaznice 20 kn.
Za one koji su zaboravili ili ne znaju gdje se Boogaloo Club nalazi, klub je u Ulici grada Vukovara 68 u sklopu Pučkog otvorenog sveučilišta, a ulaz u Boogaloo Club je iz ulice Ivana Lučića.
promo girl // 04/04/2016