U subotu 22. travnja će se u zagrebačkom Boogaloo Clubu održati najveći Depeche Mode party na ovim prostorima do sada pod imenom "Depeche Mode Night". Na programu će biti promocija novog Depeche Mode albuma "Spirit", koncert najbolje Depeche Mode tribute grupe u regiji, novosadskih The Gift i 80's Party by Tomi Phantasma na dva floora. Pored toga će se na nagradnoj igri dijeliti pet novih albuma Depeche Mode, a cijeli događaj je i warm up za skorašnji koncert Depeche Mode u Ljubljani gdje dolaze u sklopu svoje "Global Spirit" turneje 14. svibnja.
Depeche Mode je jedna od najvećih pop grupa svih vremena, te jedna od najdugovječnijih grupa koja je proživjela "novi val" tj. new wave i uspjela se zadržat u samom vrhu svjetske glazbene scene sve do danas. Nastali su davne, legendarne 1980. godine kada su uz Human League, Ultravox, Simple Minds, Spandau Ballet, Yazoo,.... bili dio new wave, sinthpop i neoromantic scene. Depeche Mode su snažno obilježili osamdesete godine prošlog stoljeća i hrabro zakoračali u devedesete kada su bili na vrhuncu svog stvaralštva i napisali većinu svojih hitova. Depche Mode su uvijek imali brojnu i fanatičnu bazu fanova do te mjere da su pored darkera koji većinom svi obožavaju Depeche Mode u osamdesetima u Zagrebu postojali tzv. "depeševci" koji su se oblačili kao Depeche Mode i slušali samo Depeche Mode. Njihovi hitovi "New Life", "Everything Counts", "People Are People", "Master and Servant", "A Question of Time","Stripped", "Never Let Me Down Again", "Behind the Wheel", "World in My Eyes", "Personal Jesus", "Enjoy the Silence", "Policy of Truth", "I Feel You", "Barrel of a Gun", "It's No Good", "Dream On", "Precious", "Wrong",....kao i najnoviji hit "Where's the Revolution" se vrte širom svijeta i dan danas.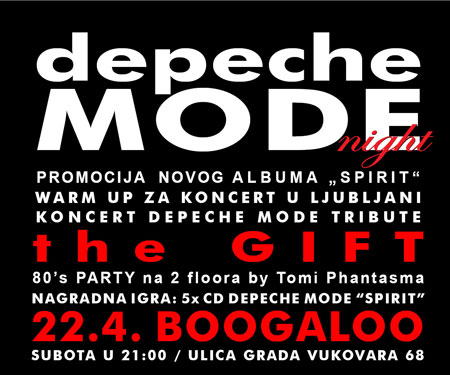 Program će započeti sa preslušavanjem novog albuma Depeche Mode "Spirit", nakon čega će na pozornicu izaći novosadska grupa The Gift koja slovi za najbolji Depeche Mode tribute band u regiji, a i šire, i odsvirati će presjek hitova Depeche Mode, pokoju autosku stvar, a ako ih pozovemo na bis i neke od 80's hitova poput "Tainted Love", "Just Like Heaven", "How Soon Is Now", "Ashes To Ashes",....
"Novosadska cover petorka The Gift izvodeći edukativni muzički sadržaj, britanski rokenrol 80-ih i 90-ih, donosi publici autentičan scenski nastup baziran na plesnim pokretima velikih muzičkih ikona. Na ovim prostorima se napokon, osim pukog sviranja ili "skidanja" pjesama, može osjetiti nešto malo više magije u muzici. Inzistiranje na interakciji s auditorijumom, prisnosti koja istovremeno šokira i oduševljava prisutne lascivnim i grotesknim pokretima, probijanjem barijere stagea, čestim silaženjem u publiku, i najzad, fizičkim dodirom sa slobodnijim fanovima koji se odlično provode. Ovakvi dogadjaji su imitacija nečega što se nekada stvarno odigravalo u klubovima u Britaniji, kao i uspešan bijeg od surove stvarnosti."... (PPRESC- Aleksandar Vukelić).
Pored koncerta će biti projicirane projekcije Depeche Mode video spotova i fotografija. Nakon koncerta slijedi veliki 80's Party na dva floora. Na velikom flooru će se puštat komercijalna 80's glazba kao Depeche Mode, Yazoo, Eurythmics, Simple Minds, Ultravox, Soft Cell, Alphaville, OMD, New Order, Human League, A-ha, Black, Camouflage, Blancmange, DAF, Pet Shop Boys, David Bowie, Video Sex, Cindy Lauper, Bananarama, Bangles, Dead Or Alive, Tears For Fears, Kim Wilde, Denis & Denis, BOA, Xenia, The Police, Blondie, Billy Idol, U2, .... dok će se na malom flooru vrtit alternative 80's poput Joy Division, The Cure, Bauhaus, Siouxsie & The Banshees, Front 242, Nietzer Ebb, Cabaret Voltaire, Sisters Of Mercy, The Smiths, Suede, EKV, The Stranglers, The Cult, Clan Of Xymox, Mizar, Covenant, Placebo, Editors, Violent Femmes, Jesus & The Mary Chain, Killing Joke, Laibach, Pixies, Nine Inch Nails, Garbage, Moby, London After Midnight, Marilyn Manson, Heroes Del Silencio,....
Početak eventa je najavljen za 21 sat, koncert je zakazan za 22.30h, a cijena ulaznica iznosi 35 kn u pretprodaji i 45 kn na dan koncerta. Pretprodajna mjesta; Dirty Old Shop - Tratinska 18, Rockamark - Berislavićeva 13, Kloto - Masarykova 14, Octopus - Gundulićeva 31, Boogaloo - Ulica grada Vukovara 68, Eventim - www.eventim.hr
promo girl // 07/04/2017