U 5. mjesecu Tvornica nam je pripremila ciklus ''Bad Seeds'' u sklopu kojeg će nastupiti dva Bad Seeda - Mick Harvey i Warren Ellis.
Mick Harvey, stari prijatelj Nicka Cavea, s kojim je osnovao The Boys Next Door, The Birthday Party i The Bad Seeds, poznati je australski multiinstrumentalist, producent i skladatelj. U Zagrebu će u subotu 12.05.2007. zajedno s bendom predstaviti svoj novi album ''Two Of Diamonds''.
Warren Ellis je ludi violinist Bad Seedsa koji predvodi instrumentalni trio Dirty Three s kojima će u srijedu 30.05.2007. stići u Tvornicu. Njihova prekrasna glazba će vas u isto vrijeme opustiti i protresti od glave do pete.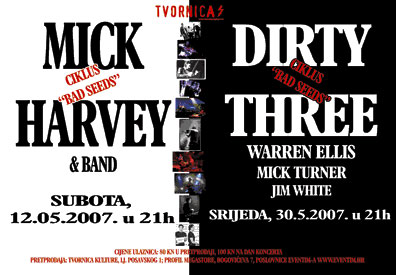 Ulaznice za koncerte po cijeni od 80 kuna svaki, moći ćete kupiti u Tvornici kulture, na prodajnim mjestima Eventima i u Profil Megastoru. Na dan koncerta će biti 100 kuna. Početak oba koncerta je zakazan za 21h.
ana // 06/04/2007