U petak 20. veljače će se u zagrebačkom klubu Jabuka održati promocija novog albuma Marilyn Mansona "The Pale Emperor". Marilyn Manson je definitivno posljednji veliko ime alternativne scene, lik koji je uspio spojiti angažiran i provokativan stav Sex Pistolsa sa industrial rock galazbom Nine Inch Nailsa, ubacivši i Bowiea u sve to, no ipak stvorivši svoj vlastiti stil. Zbog svoje ekscentričnosti je često bio na meti konzervativaca i vjerskih fanatika, no sve to mu je samo pomoglo u postizanju sve veće popularnosti. Njegov treći album "Antichrist Superstar" iz 1996. godine pravo je remek djelo koje poprima oblike mjuzikla koji bi se mogao opisati kao da Sex Pistols izvode "Rocky Horror Show", a pjesma "Beatufil People" je postala univerzalni hit odbačene generacije. Sljedeći album "Mechanical Animals" je bio pod očitim utjecajem David Bowieovog "Ziggy Stardusta" prenesenog u moderno doba, a ujedno i Mansonov najuspješniji album. S tim albumom Manson postaje međunarodna rock zvijezda i debelim slovima se upisuje među najbitnija imena u rock enciklopediju.
"The Pale Emperor" je Mansonov deveti po redu studijski album, izdan pod okriljem etiketa Hell etc./Cooking Vinyl/Universal Music. S radom na novom albumu Manson je započeo još 2013. godine, uz producentsku pomoć Tylera Batesa, kojeg je upoznao na setu snimanja serije "Californication". "The Pale Emperor" donosi ukupno 10 novih pjesama, najavljenih singlovima "Third Day of a Seven Day Binge" , "Deep Six" (s kojim je dospio na vrhove top ljestvica) i "Cupid Carries a Gun". Kako je otkrio u jednom od intervjua, zvuk novog albuma opisao je 'filmskim' te otkrio kako će sadržavati elemente njegovih ranijih blues utjecaja te istovremeno zadržati nešto oštriji zvuk prijašnjih radova. Upravo u to se mogu uvjeriti i sami slušatelji - " The Pale Emperor " donosi jedno od zasigurno ponajboljih izdanja Marilyna Mansona, a to dokazuju i visoka mjesta na top listama (Billboard 1. mjesto) kao i odlična prodaja albuma. So, Manson is back!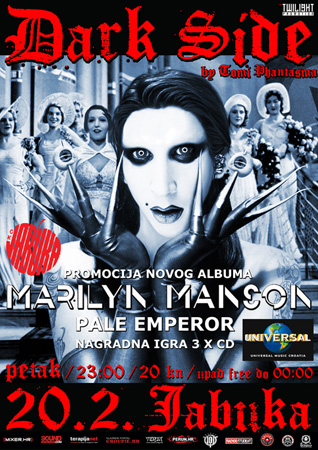 Za hrvatske fanove album "The Pale Emperor" dostupan je i u digitalnom obliku, putem Deezer i Google Play servisa!
Deezer: http://smarturl.it/TPEmperor,
Google Play: http://smarturl.it/TPEmperorgp
Na nagradnoj igri će vam Universal Croatia pokloniti tri nova albuma Marilyna Mansona. Za sudjelovanje u nagradnoj igri je potrebno uzeti nagradni kupon na šanku prilikom kupnje pića od 23 do ponoći a nakon ponoći će se kuponi dobivati uz kupljenu ulaznicu. Izvlačenje će se održati u 01 sat.
Program u Jabuci počinje u 23 sata sa preslušavanjem "The Pale Emperor", zatim slijedi audio video presjek radova Mansona koji će trajati do 01 sat a zatim slijedi Dark Side party by Tomi Phantasma gdje će se vrtit bendovi poput Nine Incah Nails, Gary Numan, DAF, Cabaret Voltaire, Nitzer Ebb, Die Krupps, Front 242, Covenant, Borghesia, Laibach, Paradise Lost, Rammstein, Ministry, The Cure, Bauhaus, Joy Division, Siouxsie & the Banshees, Pixies, The Smiths, Jesus & Mary Chain, Violent Femmes, Nick Cave, Love & Rockets, Peter Murphy, The Sisters Of Mercy, Clan Of Xymox, Cassandra Complex, Virgin Prunes, Gene Loves Jezebel, Christian Death, Mizar, London After Midnight, Editors, Placebo, Iggy Pop, David Bowie, Lene Lovich, The Cramps, The Stranglers, Ramones, Echo & The Bunnymen, Killing Joke, The Cult, EKV, Talking Heads, Swans, Simple Minds, Ultravox, Depeche Mode, Soft Cell, Human League, Flock Of Seagulls, Camouflague, .....
Upad free i happy hour od 23 do ponoći, a nakon ponoći upad 20 kn i normalne cijene pića.
Dobrodošli!
promo girl // 15/02/2015