U zagrebačkom Boogaloou će se u petak 2. rujna nakon koncerta duhovne glazbe Kirtan, predavanja Indradyumna Swamija, Shyram dancea, prezentacije borilačkih vještina i vegetarijanske zakuske, s početkom u 23:30 sati održat novi 80's Party. Rezident dji Tomi Phantasma i Marin će vrtit spotove i puštat najbolju glazbu iz osamdesetih te bendova koji se danas furaju na 80-te. Na programu će biti sinth pop, pop, new wave, electro, darkwave, gothic rock, punk rock, rock, 80's today…. tj. Depeche Mode, New Order, Yazoo, Eurythmics, Tears For Fears, A-Ha, Alphavile, Dead Or Alive, Kim Wilde, Denis & Denis, Pet Shop Boys, Human League, Duran Duran, Madonna, Video Sex, Simple Minds, OMD, Ultravox, Soft Cell, DAF, Front 242, Nietzer Ebb, Billy Idol, U2, Simple Minds, David Bowie, Camouflage, The B 52's, The Smiths, Violent Femmes, Pixies, Talking Heads, Lene Lovich, Siouxsie, Joy Division, Bauhaus, Laibach, Killing Joke, Fields Of The Nephilim, The Cure, The Sisters Of Mercy, The Cult, REM, EKV, Blondie, Madness, The Police, Billy Idol, Iggy Pop, The Clash, The Stranglers, Ramones, Placebo, White Lies, Editors, Interpol, Marilyn Manson, Moby, Covenant, London After Midnight, Killers, ………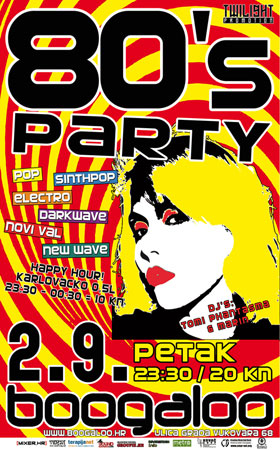 Posebna novost je happy hour na kojem će se moći kupiti Karlovačko pivo od pola litre po cijeni od 10 kn od 23:30 sata do 00:30 zato dođite na vrijeme!
Party počinje u 23.30h, a cijena ulaznice je 20 kn.
Ps: Boogaloo Club ima veliku terasu gdje se slobodno može pušiti!
Dobrodošli!
promo girl // 29/08/2011