Prvi Twilight Party u novoj 2011. godini u petak 28. siječnja će biti posvećen promociji novog albuma "Ritual", jedne od najvećih novih alter rock grupa, londonskih neodarkera White Lies.
White Lies grade svoj stil na zvuku darkerskih heroja iz osamdesetih poput Echo & The Bunnymen, Joy Division,... dok vokal Harry McVeigha podsjeća na kombinaciju Julian Copea (The Teardrop Explodes), Ian McCullocha (Echo & The Bunnymen), Ian Curtisa (Joy Division) , Marian Golda (Alphaville) i Andy McCluskeya (OMD). Njihov prvijenac "To Lose My Life" postigao je planetarni uspjeh sa kojeg su skinuta čak četiri hit singla; "Death", "To Lose My Life", "Unfinished Business" i "Farewell to the Fairground". Njihov drugi album "Ritual" izlazi 17. siječnja, a singl koji najavljuje novi album "Bigger Than Us" već je neko vrijeme visoko na svim top listama tako da će novi album zasigurno nastviti uspjeh prvijenca.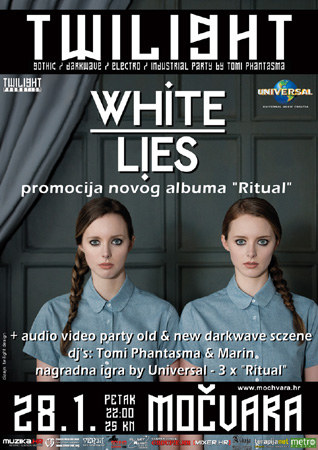 Najsretniji posjetioci će moći na nagradnoj igri osvojiti tri nova albuma White Lies koja poklanja distributer za Hrvatsku Universal Music Croatia. U nagradnoj igri mogu sudjelovati samo oni sa kupljenom ulaznicom.
Pored White Lies će na programu Twilighta biti svi uzori White Lies iz osamdesetih poput Echo & The Bunnymen, Joy Division, Killing Joke, New Order, The Cure, The Mission, The Smiths, Theatre Of Hate, Sex Gang Children, Siouxsie & The Banshees, ....kao i novije neodarkerske i neo new wave snage poput Editors, Interpol, The Killers, Placebo, Muse, Franz Ferdinard, The National,...i naravno tu će biti i svi darkerski hitovi poput The Sisters Of Mercy, Bauhaus, Depeche Mode, Die Krupps, Laibach, Marilyn Manson, Rammstein,.......
Party započinje u 22 sata a cijena ulaznice će iznositi 25 kn.
promo girl // 16/01/2011